In the following guide I explain how to remove and replaced damaged screen in HP Pavilion dm4 laptop.
This is second part of the HP Pavilion dm4 disassembly guide.
In the part one I explained how to remove display panel.
STEP 1.
There are two screw covers in the lower left and right corners of the bezel.
You can remove both covers with a sharp object.
On the following picture I'm removing the left screw cover.
Remove the screw.
On the next picture I'm removing the right screw cover.
Remove the screw.
STEP 2.
Insert a piece of soft plastic under the bezel and carefully separate it from the cover.
I'm using my favorite case cracker – the guitar pick.
There are some hidden latches securing the bezel to the display cover. You'll have to wiggle it in order to unlock the latches.
STEP 3.
Continue separating the bezel from display cover.
STEP 4.
The bezel separated on the top of the display assembly. Now you can move to the bottom part.
STEP 5.
Finally, the bezel has been removed.
STEP 6.
Remove four screw securing the LCD.
STEP 7.
Carefully separate the LCD from the display cover and place it face down on the table.
STEP 8.
On the back you can access to the video cable and webcam cable bundled into one harness.
The webcam cable glued to the back of the screen with double sticky tape. Unglue the cable.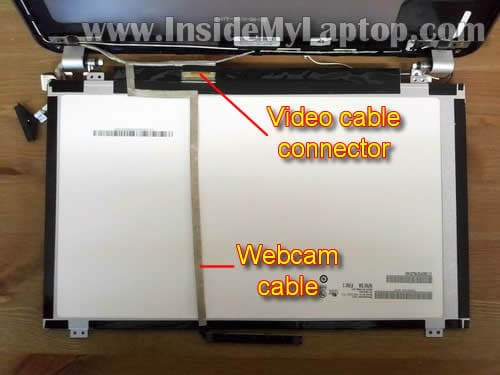 STEP 9.
Unplug the video cable.
STEP 10.
Now you can remove the screen and replace it with a new one.
You can search for a new screen using the model number printed on the sticker on the original part.
In my HP Pavilion dm4 I had the following LCD installed: B140XW02. It's version 2 but I don't know if the version number makes any difference.
On the following picture you see the display back cover.
You can support my work!
If you appreciate my work and find this information useful, please support this site. Thank you!