In this guide I explain how to replace the cooling fan assembly in an IBM  ThinkPad T43 laptop.
Also you can use this guide for removing and replacing the keyboard and hidden memory module.
I's fixing the laptop because it started showing  "Fan Error" message on startup.
Turn off the computer, unplug the AC adapter and remove the battery.
STEP 1.
Remove three screws securing the keyboard on the bottom of the laptop.
It' not necessary to remove the memory cover.
STEP 2.
Insert a sharp object between the bottom of the keyboard and palm rest and carefully lift it up.
Place the keyboard upside down on the palm rest.
STEP 3.
Disconnect the keyboard cable from the motherboard.
STEP 4.
Remove the keyboard.
STEP 5.
The cooling fan assembly is hidden under the palm rest and cannot be removed until the palm rest is removed.
The second memory module can be accessed here.
STEP 6.
Now we are going to remove the palm rest.
Remove all marked screws from the bottom.
STEP 7.
Disconnect the touchpad cable from the motherboard.
STEP 8.
Start separating the palm rest assembly from the bottom case.
STEP 9.
Remove the palm rest assembly.
STEP 10.
Remove three screws securing the heat sink.
Disconnect the fan cable from the motherboard.
STEP 11.
Lift up the right side of the heat sink.
STEP 12.
Remove the fan assembly.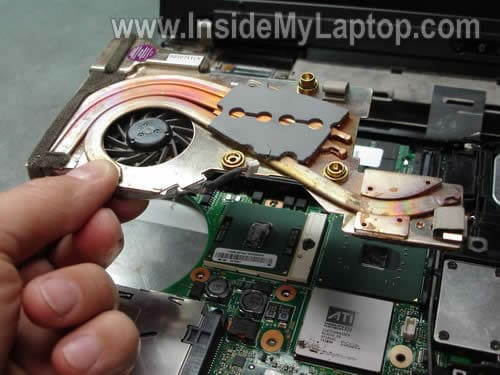 I would suggest searching for a new fan assembly using the IBM FRU part number. In my case the part number is 26R7950.
STEP 13.
Clean up the CPU and GPU chips with an alcohol swab.
Do not forget to apply new grease on the CPU if you installing a used heat sink.
You don't have to apply thermal grease on the GPU because it uses thermal pad located on the heat sink.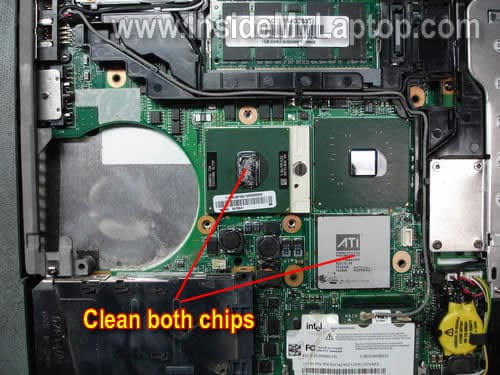 A new fan assembly should come with thermal grease pre-applied on the heat sink. Also, it comes with thermal pad for the GPU.