This guide explains how to apply new thermal grease on a laptop processor (CPU).
Thermal grease (thermal compound or paste) has to be applied on the top of the processor before you install the heat sink. Thermal grease helps to conduct heat more efficiently.
In some laptops you can remove the heat sink without removing the CPU fan. In my case, I had to remove the fan first.
In most cases, the heat sink is secured above the processor by four screws.
You'll have to remove or loosen those screws.
Carefully lift up the heat sink.
In my example the heat sink covers two chips: CPU and ATI chip. It's not very common. In many other laptops the heat sink covers only the processor.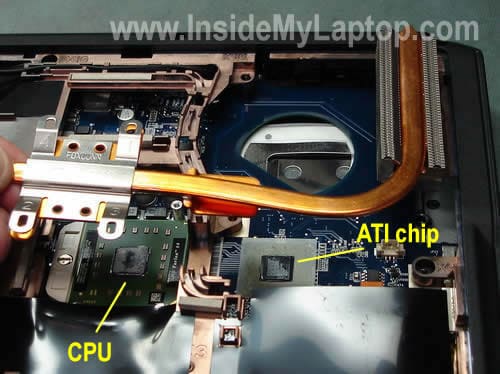 The ATI chip thermal grease is different, it looks like a blue chewing gum. I'm not going to replace the ATI chip grease today because it appears to be soft and looks normal.
The CPU grease, on the other hand, looks dried out and feels very hard. The CPU thermal grease definitely has to be replaced.
Thermal grease was so dried out that I had to use a flathead screwdriver to remove it from the heatsink.
NOTE: I would suggest using something softer, maybe a piece of plastic because the screwdriver makes scratches.
Clean the heat sink and CPU with 99% alcohol and soft cloth.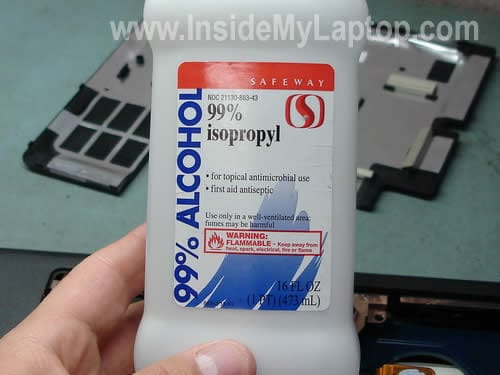 Both, the heatsink and CPU are clean and ready for new thermal grease.
Apply a small drop of new thermal grease on the top of the processor. Apply just enough to cover the CPU chip (black square in the center).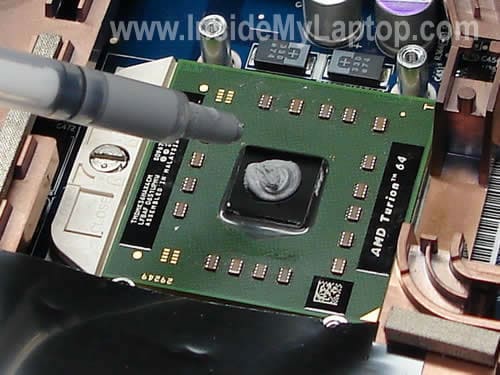 Finally, install the heat sink and secure it by tightening screws in the order 1-2-3-4.
You can support my work!
If you appreciate my work and find this information useful, please support this site. Thank you!