The following set of instructions explains how to remove and replace the keyboard on a Dell Inspiron 9400 or E1705 laptop.
Before you start, turn off the power, remove the battery and remove the AC adapter.
STEP 1.
Open up the display as far as it goes.
Insert a small flat head screwdriver under the  keyboard cover and carefully lift it up.
Continue removing the cover with your fingers.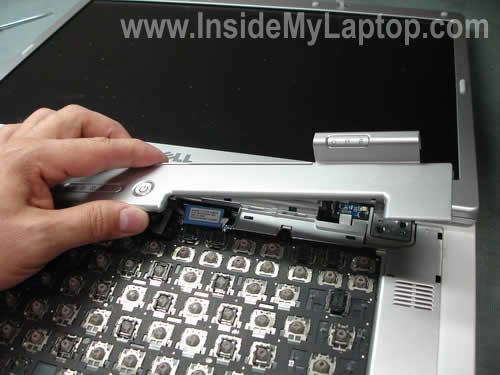 STEP 2. Remove two screws securing the keyboard.
STEP 3.
Carefully lift up the keyboard from the base and move it up so you can access the cable.
STEP 4.
The keyboard is connected to the motherboard via a flat ribbon cable.
Before you can release the cable the connector must be unlocked. Be very careful.
The keyboard connector is permanently attached to the motherboard. If you accidentally damage it, you'll have to replace the whole motherboard.
On the picture below you see the connector in the locked state.
Lift up the right side of the cable retainer.. On the picture below you see the same connector in the unlocked position.
STEP 5.
Now you can pull the cable from the connector and remove the keyboard.
Replace the damaged keyboard with a new one.
Also read how to replace the screen and fix display hinge.