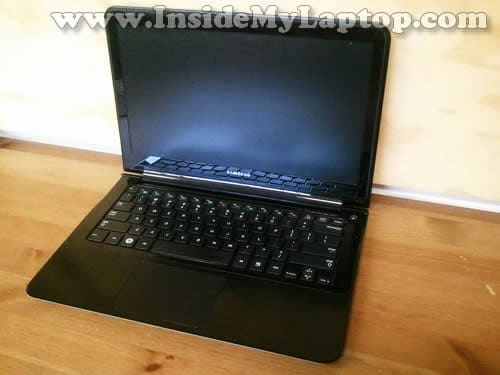 In this guide I'll be taking apart a Samsung 900X notebook. I'm working on notebook model NP900X3A.
Most important components in a Samsung 900X notebook located under the bottom cover.
I'll show how to remove the bottom cover and access the internal notebook components.
Before you start, make sure the laptop is turned off.
STEP 1.
Some screws securing the bottom cover are hidden under the rubber feet (red circles) and rubber covers (yellow circles).
The rubber feet are glued to the bottom cover with double sticky tape.
STEP 2.
Using a sharp object carefully lift up the rubber feet and unglue it from the bottom cover.
STEP 3.
Remove four screw covers.
STEP 4.
Now remove all screws securing the bottom cover.
STEP 5.
Start separating the bottom cover from the notebook.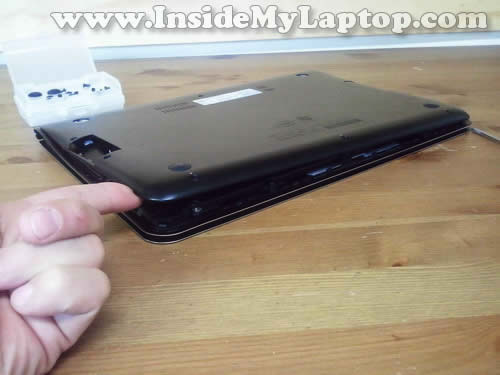 STEP 6.
Lift up and remove the cover.
Now you should be able to access most major notebook components. Let's look at them one by one.
The notebook battery secured on the bottom and connected to the motherboard via a cable.
Do not forget to unplug the battery from the motherboard before you start removing other laptop components.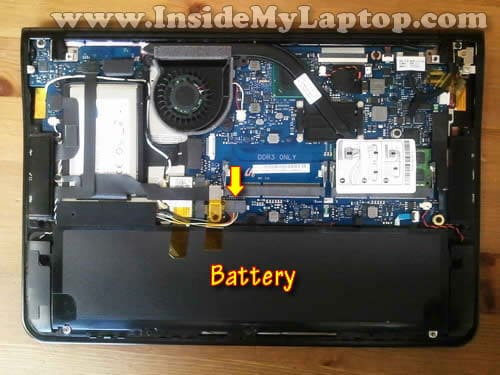 The hard drive is mounted in the upper left corner.
Samsung 900X comes with a 1.8″ SATA SSD.
In my notebook I had a 256GB SSD installed.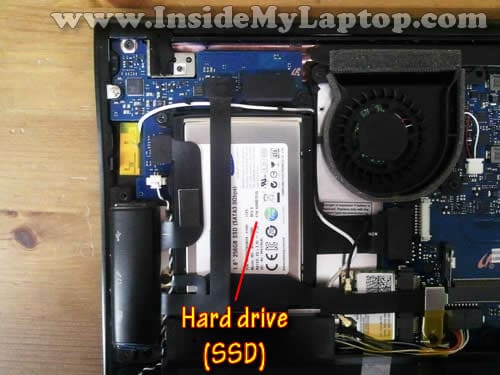 The cooling fan doesn't have the cover.
It's very easy to remove and replace the cooling fan in this notebook.
All you have to do is remove two screws and disconnect the fan cable from the motherboard.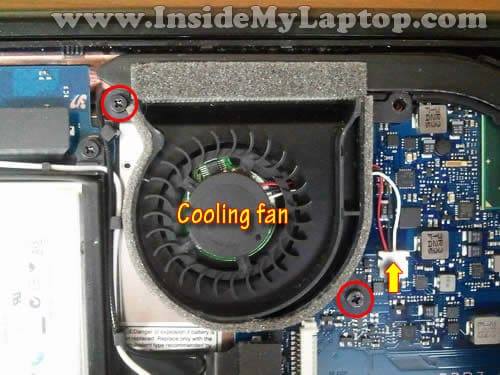 The wireless card mounted right above the battery.
Samsung 900X notebook has two memory slots. You can use DDR3 memory only.
The CMOS battery is not soldered to the motherboard. It can be unplugged and replaced.
The DC power jack is located in the upper right corner.
The DC jack attached to the cable which can be unplugged from the motherboard. If the DC jack fails, you have to disconnect the failed DC jack harness and replace it with a new one.
The DC jack is secured in place by the mounting bracket and one screw.