This guide will help you take apart a Fujitsu LifeBook V series notebook. It will show how you can remove the hard drive, memory modules, DVD drive and keyboard.
Also, I'll show how you can clean up the heat sink. I have created this guide while taking apart a Fujitsu LifeBook V1010.
The badge on the front said "LIFEBOOK V Series" so I assume this guide should work for other modes in the LifeBook V line.

STEP 1
First of all, remove the battery. When the battery is installed, you cannot remove the hard drive cover.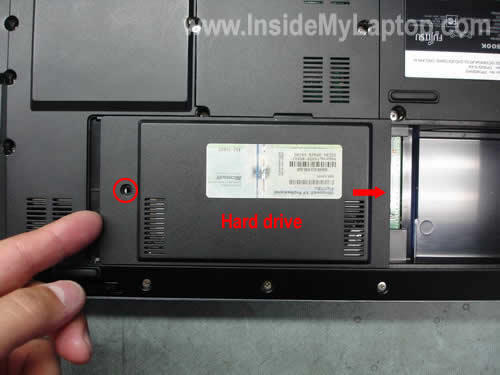 STEP 2
Remove one screw securing the hard drive cover. Slide the cover to the the right site and remove it.
STEP 3
Remove two screws securing the hard drive caddy. Slide the whole assembly to the left and remove it.
If you are replacing the hard drive, you'll have to transfer caddy to the new drive.
STEP 4
Remove one screw securing the memory cover. Remove the cover.
STEP 5
Now you can remove both memory modules. Spread latches on both side of the slot until the module pops up at a 30 degree angle. Remove the module by the edges, do not touch chips.
STEP 6
Remove two screws securing the CD/DVD drive. Push the CD/DVD drive out. Remove the drive.
STEP 7
This cover gives you an easy access to the cooling module.
If your laptop runs hot and shuts down without any worning, probably it's heat realated problem. Most likely the heat sink is clogged with dust and because of that the CPU overheats.
STEP 8
Remove the cover. You can clean the cooling module with compressed air.
Spray air inside the opening until there is no dust inside the heat sink. That's an easy way to fix the overheating problem.
STEP 9
Now we are going to remove the keyboard. In order to remove and replace it you don't have to go through steps 2-8. Remove the battery and then jump to the step 10.
STEP 10
Start removing the keyboard bezel with a sharp object, you can use a small flathead screwdriver.
Lift up the right side of the bezel (move 1) and then slide it to the right (move 2).
STEP 11
Remove the bezel.
STEP 12
Now lift up the keyboard.
Place it upside down on the palm rest. Be careful, the it is still attached to the motherboard.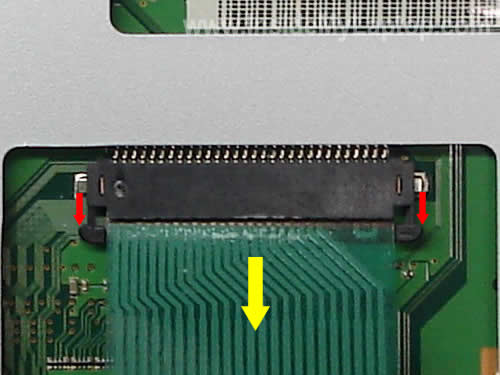 STEP 13
Unlock the cable connector on the motherboard as it shown on the picture above.
Pull the cable out.
WARNING! If you break the connector, you'll have to replace the whole motherboard.
Remove the keyboard and replace it with a new one if necessary.