In this guide I show how to remove and replace LCD screen on a Sony Vaio VGN-NW series laptop.
I'm fixing a Sony Vaio VGN-NW235F model. It also says model PCG-7184L on the bottom.
Before you start, make sure the computer is turned off and battery removed.
STEP 1.
There are four white screw covers on the display bezel.
Remove all four covers. Remove four screws located under those covers.
The screw cover has a sticky bottom. You can remove it with a sharp object.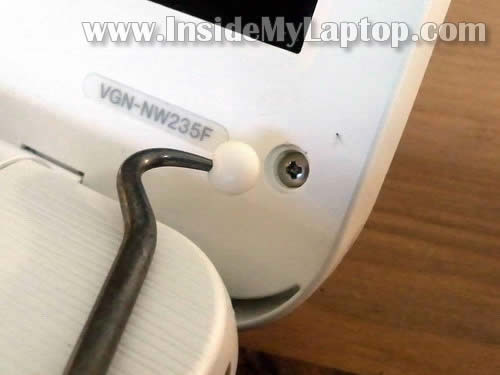 STEP 2.
Start separating the bezel from the display cover.
You can use a guitar pick or old credit card to separate the bezel. Continue removing it with your fingers.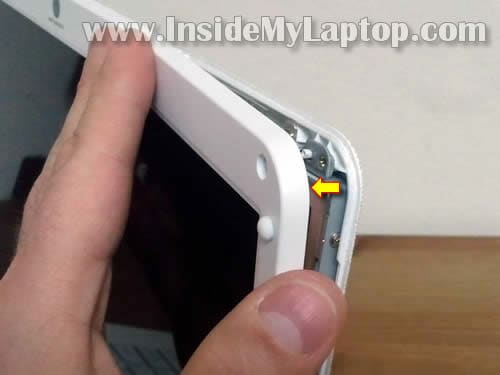 STEP 3.
After you separated the bezel on the top of the display assembly, move to the bottom side.
Remove the bezel from the laptop.
STEP 4.
Sony Vaio VGN-NW235F has a regular CCFL backlight LCD screen with inverter board.
The inverter board mounted on the bottom side of the display assembly.
Carefully separate inverter board from the display cover and disconnect cables on both ends.
Remove the inverter board.
STEP 5.
Remove four screws securing display hinges.
STEP 6.
Separate the LCD from the display cover and place it face down on the keyboard.
STEP 7.
Now you can access the display cable.
STEP 8.
Disconnect the cable from the connector.
STEP 9.
Now you can remove the LCD screen assembly from the laptop.
By the way, the web camera is not a part of the screen. It's a separate module mounted on the top of the display cover.
STEP 10.
When you replace the screen, you'll have to remove both mounting brackets and transfer them to the new one.
In order to remove the bracket, simply remove four screws.
You can search for a new replacement screen using the model number from the original part.
My Sony Vaio VGN-NW235F had the following 15.6″ LCD installed: B156XW01.