In this guide I show how to remove and replace the screen on HP G62 or Compaq Presario CQ62 laptops.
Also, you can use this guide for replacing failed video cable or replacing damaged hinges.
The display panel has to be separated from the laptop base. You can follow steps 1-21 in this HP G62 or Compaq Presario CQ62 disassembly guide.
STEP 1.
There are only two screws securing the display bezel to the display cover.
These screws hidden under two screw seals in lower left and right corners of the display panel.
STEP 2.
Remove both screw seals with a sharp object. Glue them somewhere on the bezel so you don't lose them.
Remove both screws.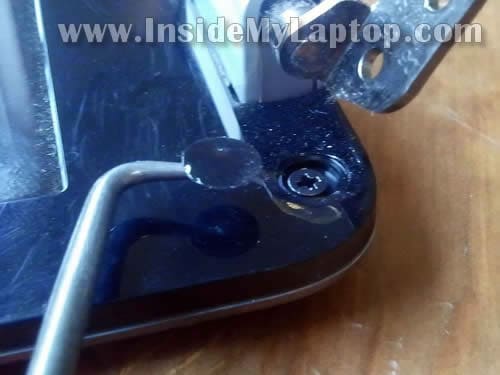 STEP 3.
Start separating the bezel from the display cover.
I'm using the guitar pick as a case cracker. You can use any other piece of plastic.
STEP 4.
Continue separating the bezel on the top of the assembly.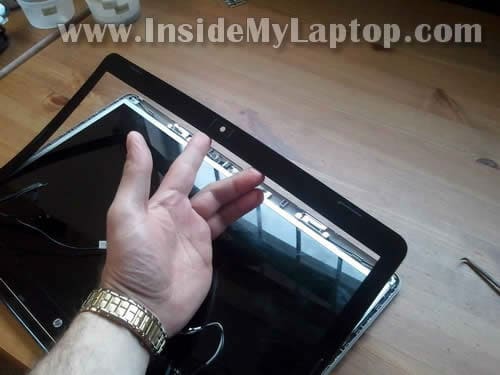 STEP 5.
Now separate the bezel on the bottom part of the display assembly.
The bezel might be glued to the screen. Work slowly and carefully.
STEP 6.
Remove the bezel from the display assembly.
STEP 7.
Remove two screws securing hinge covers.
Lift up and remove both hinge covers.
STEP 8.
Remove eight screws securing the LCD screen to the display cover.
STEP 9.
Carefully lift up the LCD assembly, separate it from the cover and place face down on the desk.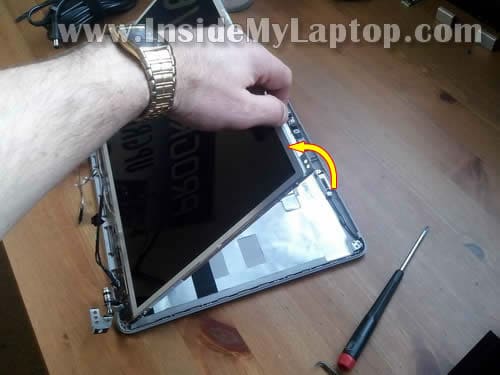 STEP 10.
Now you can access the video cable connector on the back side.
STEP 11.
Unplug/disconnect video cable.
Remove the screen from the display assembly.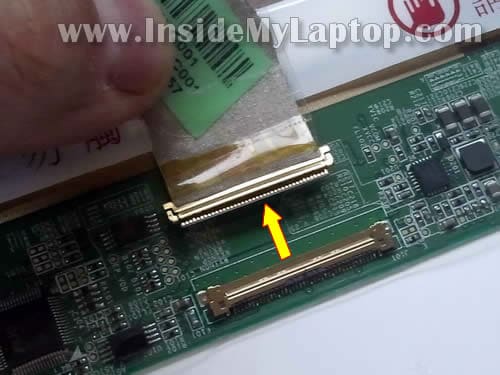 STEP 12.
Finally, remove two screws from the right hinge bracket. Remove the hinge and transfer it to the new screen.
Do the same with the left hinge.
Assemble display panel following backwards from step 12 to step 1.