In this guide I explain how to remove the screen and inverter board from a Dell Studio 1737 or Dell Studio 1735 laptop.
In order to take apart the display assembly it has to be removed from the base first.
I explained how to remove the display assembly in my previous disassembly guide (steps 1-17).
Let's take it apart and remove the screen and inverter.
STEP 1.
There are no screws securing the display bezel to the display cover but there are many plastic latches.
You can two of these latches on the following picture.
Start separating the bezel from the cover with your fingers. Wiggle the bezel until latches underneath are disengaged.
STEP 2.
Continue removing the bezel.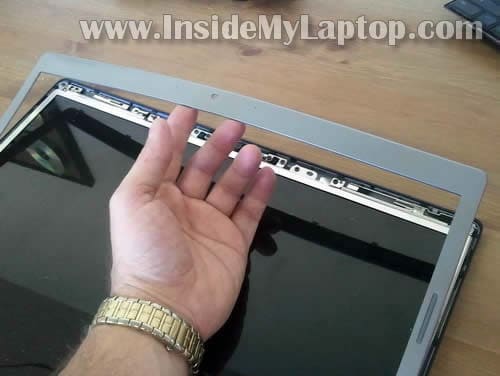 STEP 3.
The bezel has been removed.
STEP 4.
The inverter mounted on the lower part of the display panel.
The inverter works as a power supply for the backlight lamp inside the screen.
When inverter fails, the backlight goes off and the image become very dim.
If your screen has become very dim, try replacing the inverter board first. If it doesn't help, most likely you'll have to replace the LCD because it has a bad backligh lamp inside.
STEP 5.
Disconnect cables from both sides of the inverter. Simply unplug two white connectors.
Remove one screw securing the inverter board to the display cover.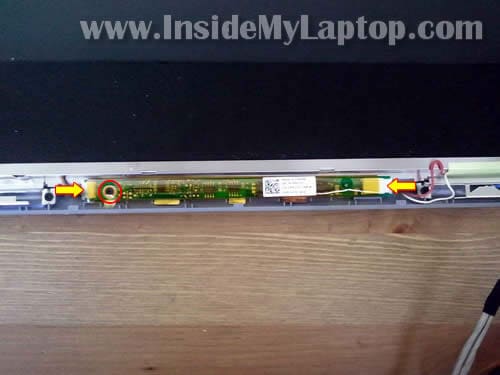 STEP 6.
Now you can remove the inverter board and replace it with a new one if needed.
STEP 7.
Now you are ready for the LCD removal.
Remove six screws securing the LCD and carefully separate it from the display cover.
Finally, unplug the video cable on the back.
Replace the screen with a new one if needed.