In the following guide I will be removing  and replacing the keyboard on a Gateway MT6704 (Model MA7) laptop.
I believe this guide will work for many other Gateway models. Take a look at the sticker on the bottom. If you see Model MA7 under the Gateway logo, most likely you can use this guide.
First of all, turn off the computer, unplug the AC power adapter and remove the battery.
Now remove covers from the wireless card and memory. I mentioned the hard drive cover, but I'm not going to remove it.
There are two screws securing the keyboard. Remove both screws.
Now remove two screws securing the hinge cover.
Lift up one side of the hinge cover with a sharp object as it shown on the picture below.
Continue removing the cover with your fingers.
On the picture below you see the hinge cover removed.
Lift up the keyboard and place it upside down on the palm rest.
Be careful, it is still attached to the motherboard with a cable.
On the picture below I circled the cable connector.
You'll have to unlock it first.
On the picture below you see the connector in the locked position.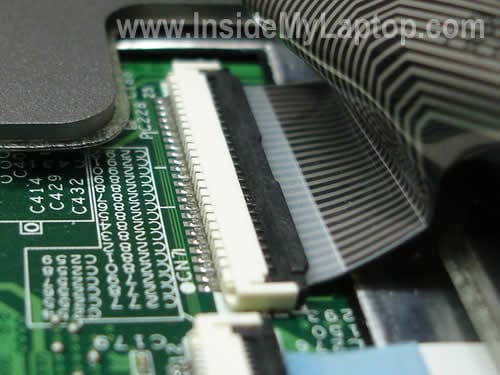 On the next picture, the connector is shown in the unlocked position.
Now you can pull the cable, remove the keyboard and replace it with a new one.
Would you like to know how to remove the motherboard and replace broken power jack? Take a look at the Gateway NX570X disassembly. This laptop has the same body (Model No MA7).
Also, in the next post I explain how to remove the screen.
If you have a different Gateway computer and my guide works for you, please mention the model in comments.
You can support my work!
If you appreciate my work and find this information useful, please support this site. Thank you!