In this guide I will disassemble an Asus S56C.
I'm taking it apart in order to access and remove failed iSSD module which is hidden under the bottom cover.
Problem description: My customer complained that his Asus S56C laptop with Windows 8 Pro OS on it started booting very slow. Reinstalling the operating system didn't fix the issue. When resuming from sleep mode it was crashing with the following error: Power Driver State Failure.
After a quick search I found that this problem could be related to the iSSD and decided to remove it completely.
STEP 1.
Make sure the computer is turned off.
Unlock and remove the battery.
STEP 2.
Remove two screw securing the service cover on the bottom.
STEP 3.
Slide the service cover to the shown direction and remove it.
STEP 4.
When the service cover removed you can access the hard drive and both memory slots.
In my Asus S56C I had only one 4GB RAM module installed and the second slot was empty.
STEP 5.
Remove three screws securing the hard drive assembly to the case.
Slide the hard drive to the left to disconnect it from the motherboard.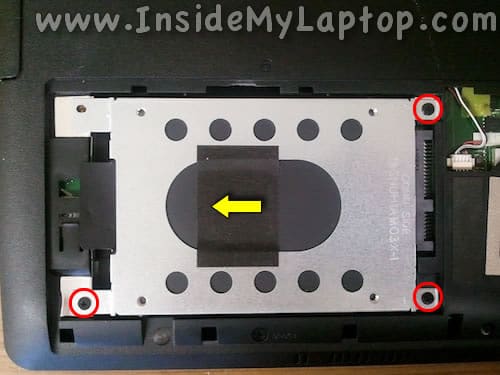 STEP 6.
Lift up and remove the hard drive assembly.
STEP 7.
Remove one screw securing the optical drive. This screw is hidden under the small square cover which has to be removed first.
Pull the optical drive to the left and remove it.
STEP 8.
Remove all shown screws from the bottom.
Five bottom screws are longer than screws on the top.
STEP 9.
Using a guitar pick (or any other piece of plastic) start separating the bottom case.
Don't forget to unplug the speaker cable shown in the step 11.
STEP 10.
Continue separating the bottom case.
STEP 11.
Before you remove the case, you'll have to disconnect the speaker cable from the motherboard.
You'll find this cable on the bottom of the laptop between the hard drive bay and RAM slots.
STEP 12.
Remove the bottom case.
STEP 13.
Here's the other side of the bottom case. Here you can access both speakers.
STEP 14.
When the bottom case removed you can access the DC power jack, cooling fan, wireless card and iSSD module.
In order to remove the iSSD module you'll have to remove one screw and pull the module from the slot.
By the way, removing the iSSD module fixed the problem reported by my customer.
The boot time went back to normal and it stopped crashing when coming out of sleep mode.
I didn't notice any performance issues with this module removed.