In this guide I will help you to remove and replace the cooling fan in a Dell Latitude D600 laptop. The cooling fan in this model is buried deep inside the laptop under the top cover. Also you can use this guide for cleaning the cooling module and removing dust from the heat sink and fan.
If your laptops shuts down on its own without any warning, most likely it happens because of overheating. Make sure the cooling fan works and the heat sink is not clogged with dust. Replace the fan if it failed or clean the heat sink if it's clogged.
Before you start, turn off the laptop, unplug the AC adapter and remove the battery.
When you are replacing the cooling fan, it is not necessary to remove memory, hard drive, wireless card or optical drive. I did that only because I was upgrading the laptop.
STEP 1.
Remove all marked screws from the bottom of the laptop.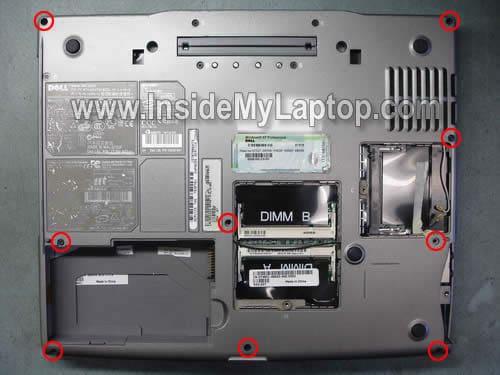 STEP 2.
Lift up the switch cover with a small screwdriver. Continue removing the cover with your fingers.
STEP 3.
When the switch cover is removed you can access two screws securing the keyboard. Remove these screws.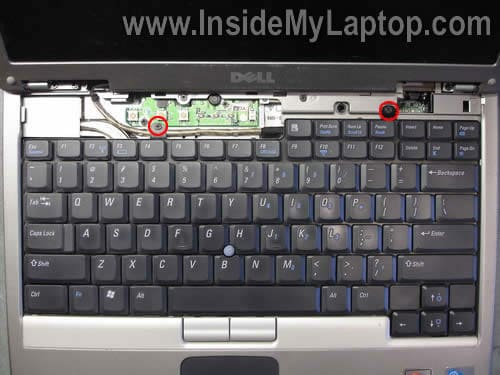 STEP 4.
Lift up the keyboard and access the cable. Disconnect the keyboard cable from the motherboard.
Search for new keyboards here.
STEP 5.
Remove three (red) screws securing display hinges.
Remove one (yellow) screw securing the video cable ground.
Disconnect the video cable connector from the motherboard.
STEP 6.
Remove and replace the LCD assembly.
Take a look at this guide for the LCD screen removal instructions.
STEP 7.
Remove three screws securing the top cover.
Disconnect the touchpad cable from the motherboard.
STEP 8.
Start separating the top cover from the base with your fingers.
STEP 9.
Remove the top cover assembly.
STEP 10.
Now you can clean the cooling module (fan and heat sink) using compressed air. In order to replace the fan, continue laptop disassembly.
Loosen four screws securing the heat sink.
Lift up and remove the heat sink.
STEP 11.
Remove two screws securing the cooling fan.
Disconnect fan cable from the motherboard.
STEP 12.
Remove and replace the cooling fan with a new one. You can find a new replacement fan for Dell Latitude D600 laptop here.
Did I help you $ave some money? Please consider making a donation. THANK YOU!