In this guide I'll explain how to remove the keyboard and replace the internal memory module in a HP Compaq nc6400 series laptop.
HP Compaq nc6400 laptop has two memory slots. One of them could be easily accessed from the bottom but the second one is hidden under the keyboard. In order to replace the memory module in the internal slot you'll have to remove the keyboard.
First of all, turn off the laptop, unplug it from the power adapter and remove the battery.
There are three screws securing the keyboard on the bottom. You can remove these screws with a #8 torx or flathead screwdriver. Remove all three screws.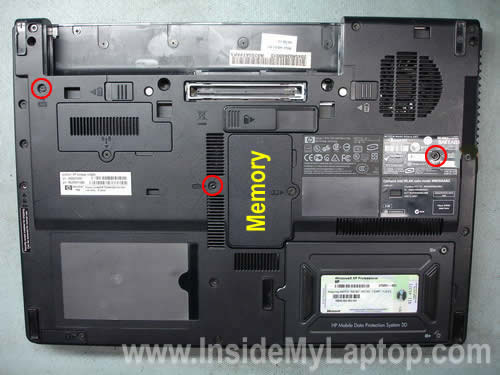 There are four small latches located in the top row of keys on the keyboard. Unlock all four latches by moving them down with your fingernail.
Now you can lift up the keyboard as it shown on the picture below. Be careful, the keyboard is still attached to the motherboard.
It is possible to remove and replace the memory module in the internal slot WITHOUT disconnecting the keyboard. Carefully slide the keyboard aside and access the memory slot. I show how to disconnect and remove the keyboard only for readers replacing the keyboard.
Place the keyboard upside down on the palm rest. The keyboard is attached to the motherboard via two flat ribbon cables.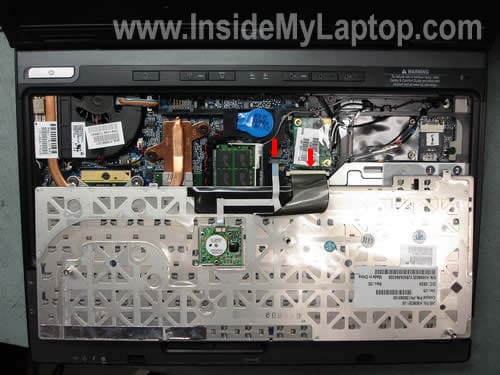 You'll have to unlock both connectors in order to release the cables.
Each connector has a locking tab (one is white and another one is brown) witch has to be moved about 1-2 millimeters up.
Very carefully move both locking tabs up with your fingernails. Release both cables and pull them from the connectors.
Now you can remove the keyboard and replace it with a new keyboard if needed.
On the picture below you can see the hidden memory slot.
Carefully push on two latches pointed with red arrows until the memory module pops up at a 30 degree angle. Pull the memory module from the slot by the edges.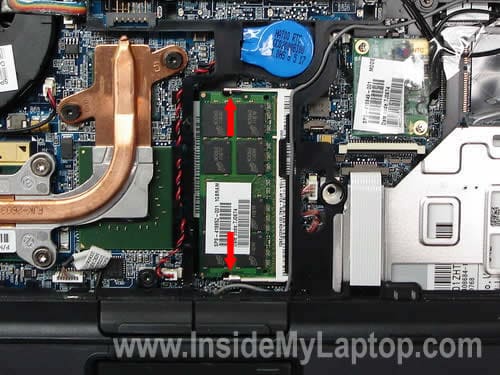 HP Compaq nc6400 laptop is upgradable to 4GB maximum. You can install up to 2GB RAM module into each slot.
Use DDR2 PC2-5300 667MHz SODIMM memory modules.
Did I help you $ave some money? Please consider making a donation. THANK YOU!