If your Toshiba Satellite L305D stopped showing video on the screen, there could be an easy fix for this problem.
First of all, test the laptop with an external monitor. If the external image appears to be fine, the next step is checking connection between the video cable and motherboard.
In this model the screen might stop working because the video cable gets disconnected from the motherboard.
I have seen a problem like that on a few different Satellite L305D and L305 laptops.
Apparently, the display cable is a little bit short and overtime it might get loose.
In order to access the cable connector you'll have to remove the keyboard first.
Using a sharp object lift up and remove the keyboard bezel.
Under the bezel you'll find two screws securing the keyboard. Remove both screws.
Lift up the keyboard and place it upside down on the palm rest. Be careful, it is attached to the motherboard.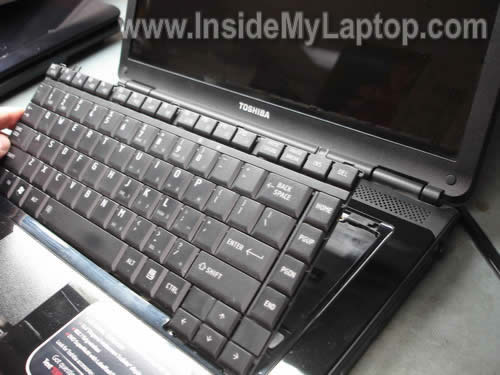 Now you can access the video cable connector.
If you look very closely, you'll see that the video cable is not seated properly and is half way out.
Plug the video cable back into the connector and test the laptop now. Does it help?
My previous post explains how to fix power port
 on Satellite L305.