Today I will be taking apart an Asus Q550LF-BBI7T07.
I will show how to remove the bottom cover and access most internal components.
I am taking it apart in order to replace failed hard drive.
STEP 1.
Make sure the laptop is turned off.
Remove screws securing the bottom cover.
NOTE: I forgot to mark one screw located on the bottom.
STEP 2.
Remove the cover.
STEP 3.
Under the bottom cover you can get access to the following internal components:
– Hard drive.
– RAM modules.
– Optical drive.
– Battery.
– Cooling Fan.
– Wireless card.
-SD card reader.
STEP 4.
Before removing internal components you should disconnect the battery.
Remove three screws securing the battery.
STEP 5.
Lift up the battery as it shown on the picture to disconnect it from the motherboard
Remove the battery.
STEP 6.
Remove three screws securing the metal bracket located over the optical drive.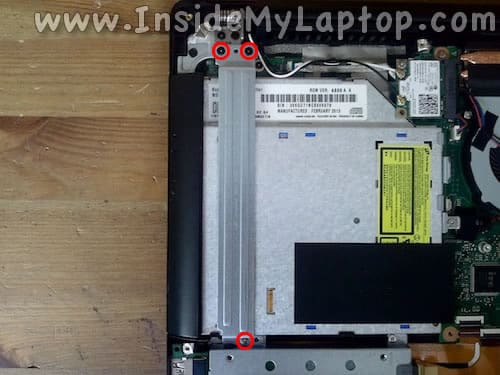 STEP 7.
Remove the bracket.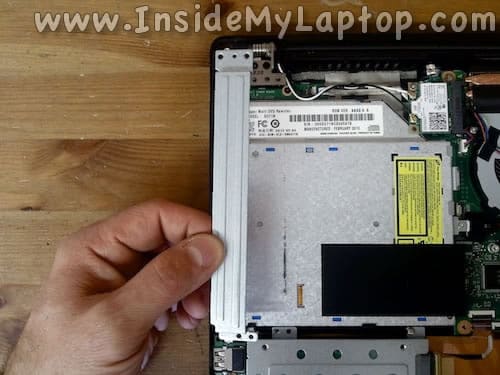 STEP 8.
Remove three screws securing the hard drive caddy to the case.
STEP 9.
Carefully lift up the hard drive assembly from the case.
Be careful, it's still connected to the motherboard.
STEP 10.
Disconnect the hard drive cable.
STEP 11.
Remove screw securing the drive to the caddy and separate them.
There are two screws on each side.
You can replace the failed hard drive with any other SATA drive or SSD.
Upgrading this 2.5″ hard drive to a 2.5″ solid state drive will speed up the laptop significantly.
The cooling fan can be easily access when the bottom cover removed.
The SD card reader located on a separate board.
The optical drive secured by one screw.
When you remove the screw you can pull the drive out and remove it.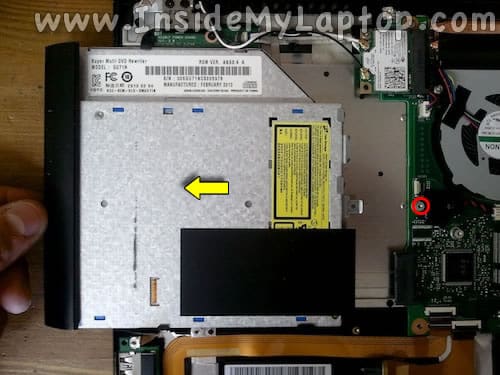 The power button located on a separate board.
If the power button failed, you can easily disconnect the board and replace it with a new one.
Unfortunately, the DC jack in Asus Q550LF-BBI7T07 laptop soldered to the motherboard.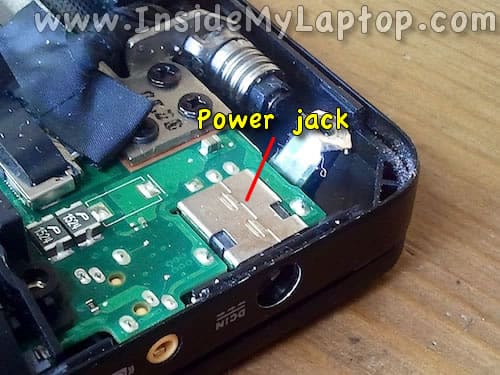 Both RAM modules also accessible when the bottom cover removed.
This laptop can handle up to 16GB (2x8GB) DDR3-12800 SODIMM RAM modules.
This motherboard has a mSATA slot available. It's located on the right side from the optical drive connector.
Apparently, only a mSATA Mini (Half Size) SSD can be used.
I don't think a full size mSATA SSD can be installed on this board. Please correct if I'm wrong.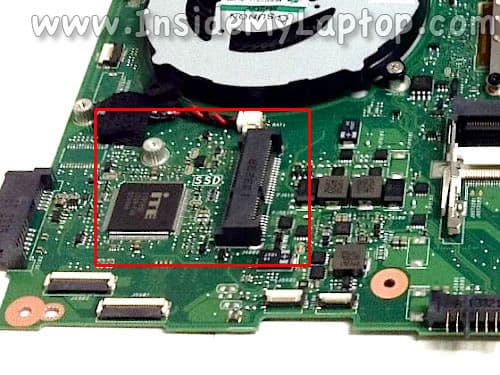 You can support my work!
If you appreciate my work and find this information useful, please support this site. Thank you!