In this guide I'll be taking apart an Asus K52F laptop.
I will go though the following disassembly steps:
STEP 1-4: Removing the bottom cover and accessing main internal components.
STEP 5-11: Remove the optical drive, hard drive and fan.
STEP 12-19: Disconnecting and removing the keyboard.
Before you start, make sure the computer is turned off.
STEP 1.
Unlock and remove the battery.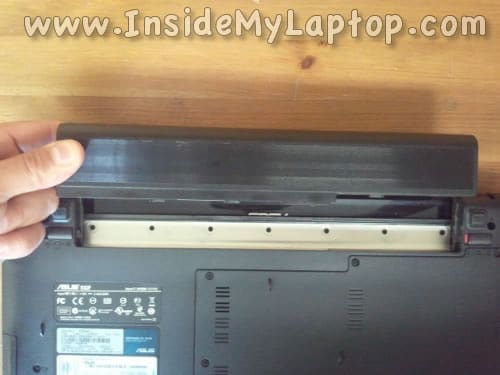 STEP 2.
Remove five screws securing the cover on the bottom.
STEP 3.
Lift up and remove the bottom cover.
STEP 4.
Under the cover you'll be able access the following components:
– Both memory modules.
– CPU cooling fan and heatsink.
– Hard drive.
– Optical drive.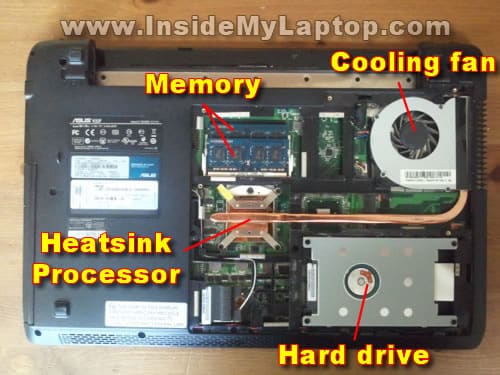 STEP 5.
Remove one screw securing the optical drive.
Pull the drive to the left and remove it.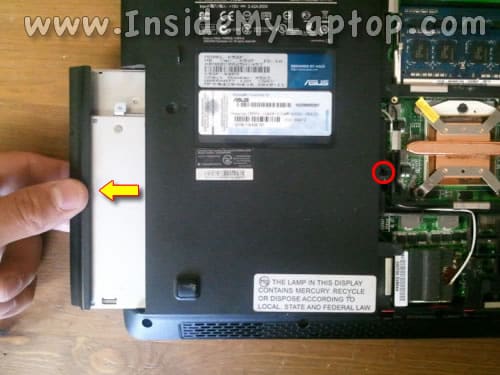 STEP 6.
Remove four screws securing the hard drive mounting bracket.
STEP 7.
Slide the entire hard drive assembly to the right to disconnect it from the motherboard.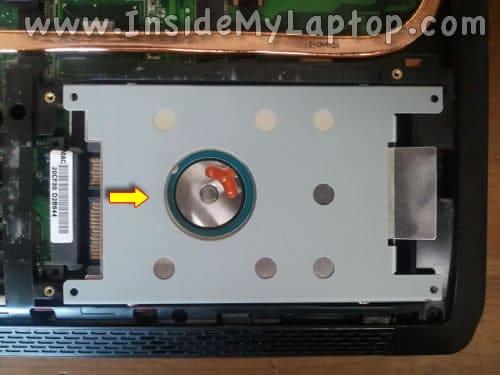 STEP 8.
Lift up and remove the hard drive assembly.
STEP 9.
Remove two screws securing the CPU cooling fan.
Disconnect the cooling fan cable from the motherboard.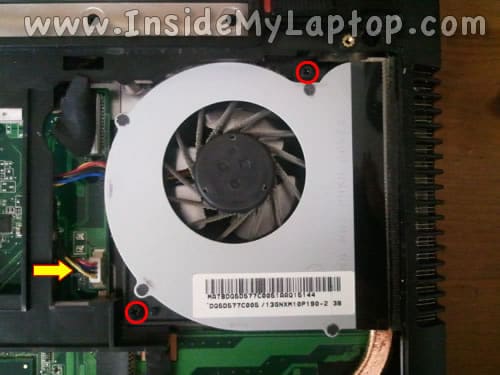 Here's how to disconnect the fan cable.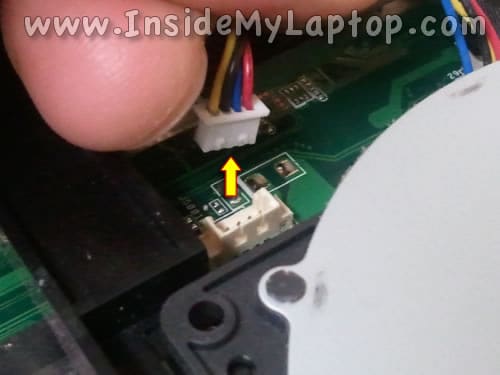 STEP 10.
Remove the black tape between the cooling fan and heatsink.
STEP 11.
Lift up and remove the CPU cooling fan.
STEP 12.
Now I'll remove the laptop keyboard.
NOTE: It's not necessary to go though all previous disassembly steps in order to remove the keyboard.
The keyboard secured by five spring loaded latches on the top.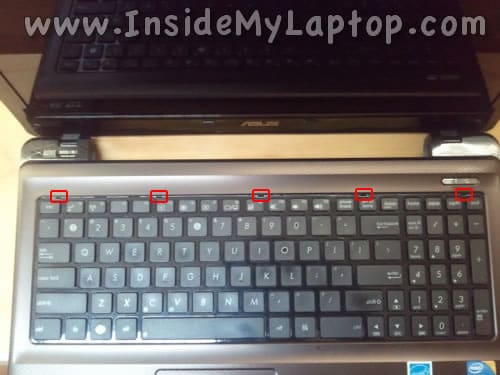 STEP 13.
Push on the first latch using a small flathead screwdriver.
STEP 14.
While the latch pushed in, insert a sharp object between the keyboard and top case and lift up the keyboard a little bit.
When you lift up the keyboard, it will not allow the latch to lock back in place.
Unlock all other latches using the same technique.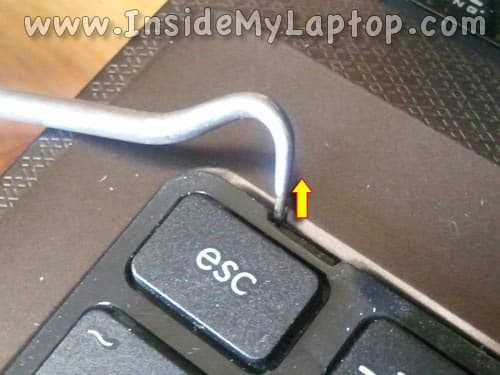 STEP 15.
After all latches unlocked you should be able to lift up the keyboard.
Turn the keyboard upside down and place it on the palmrest.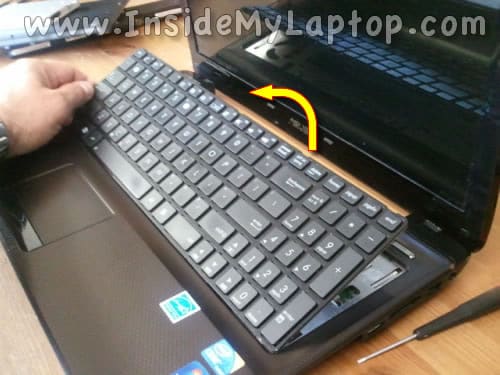 STEP 16.
Now you can access the keyboard cable connector.
Before removing the keyboard it's necessary to unlock the connector and release the cable.
STEP 17.
The keyboard connector has two parts:
– White connector base.
– Black cable retainer (moving part).
Slide the retainer about 1-2 millimeters to the shown direction.
Do not move it any further. The retainer must remain connected to the base.
STEP 18.
On the following picture the connector shown in the unlocked position.
Now you can pull the keyboard cable and unplug it from the connector.
STEP 19.
Finally, you can remove the keyboard and replace it with a new one if needed.