My customer complained that one of the keyboard keys stopped working correctly. Something got stuck under the key and it stopped moving freely. He had to push on the key very hard to make it type.
After a short diagnostic I confirmed that something got stuck under the right side of the key.
Here's how you can take off the key cap and remove the stuck object.
STEP 1.
Make sure the laptop is turned off.
Very carefully lift up the key cap.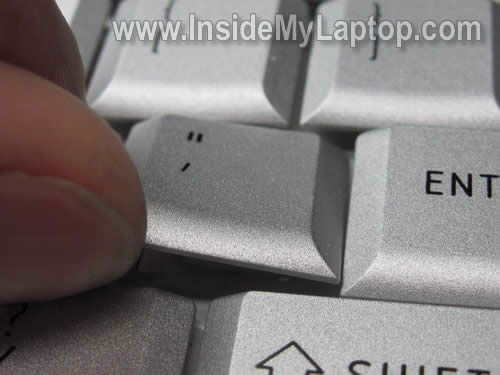 STEP 2.
Continue removing the key cap from hinges.
STEP 3.
Make sure the key hinges (lifting mechanism) stay connected to the keyboard.
STEP 4.
As you see on the next picture, there is something stuck under the right side of the hinge assembly.
STEP 5.
Carefully lift up the hinge assembly and clean it up.
STEP 6.
Position the removed key cap above the hinge.
STEP 7.
Push on the key cap until it clicks back in place.
You can support my work!
If you appreciate my work and find this information useful, please support this site. Thank you!