In this guide I explain how to remove and replace keyboard on Compaq Presario CQ61 or HP G61 laptops.
Compaq Presario CQ61 is similar to HP G61.
Before you start, make sure the laptop is turned off and battery removed.
STEP 1.
Loosen five screw securing the hard drive/memory and wireless card cover.
Lift up and remove both covers.
STEP 2.
Remove five screws securing keyboard.
By the way, under those two covers you'll find the following internal components: wireless card, CMOS battery, modem, both memory modules and hard drive.
STEP 3.
Carefully lift up one corner of the keyboard with a sharp object.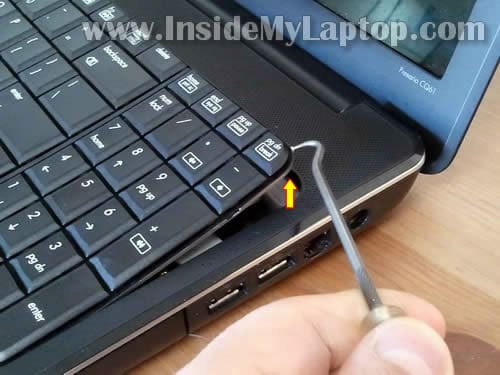 STEP 4.
Continue removing it with your fingers.
Be careful, the keyboard still connected to the motherboard via flat ribbon cable.
STEP 5.
Slide the keyboard towards the display so you can access the cable connector.
Before you can remove it completely, you'll have to unlock the connector and release the cable.
STEP 6.
The connector opens up as a door hinge.
On the following picture the connector shown in the locked position.
Lift up the right side of the brown tab so it opens at a 90 degree angle.
STEP 7.
On the following picture the connector shown in the unlocked position.
Now you can pull the cable from the connector.
STEP 8.
Finally, remove and replace the keyboard with a new one.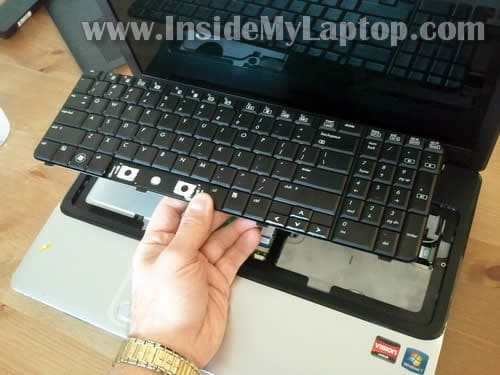 You can search for a new replacement keyboard using HP part number from the sticker.
In my case the part number is 517865-001.