In this guide I show how to replace damaged keyboard on an HP Pavilion tx1000 notebook.
I believe these instructions will work for one of the following models: HP Pavilion tx1100, tx1200, tx1300, tx1400.
Before you start the disassembly process, do not forget to turn it off.
STEP 1.
Remove the battery.
Remove four screws securing the keyboard on the bottom.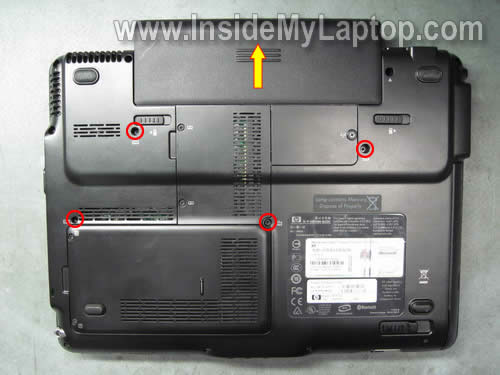 STEP 2.
Carefully insert a very small screwdriver between the top side of the keyboard and top cover.
Lift up the keyboard. Be careful with the keys.
STEP 3.
Move the keyboard towards the display.
STEP 4.
Now you can access the cable connector.
The keyboard cable is plugged into the the motherboard. You'll have to unlock the connector before removing the cable.
On this picture the cable connector is shown in the locked position.
On the next picture, the same connector is shown in the unlocked position.
Now you can pull the cable from the connector.
STEP 5.
Remove the keyboard and replace it with a new one.
You can search for a new keyboard replacement by the part number printed on the sticker. In my case I had this part number is 441316-001.