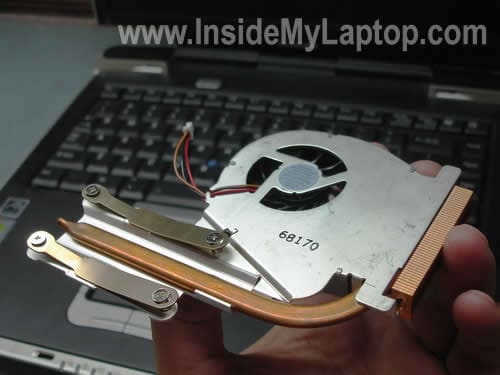 In the following guide I explain how to replace the cooling fan in a Toshiba Tecra S1 laptop.
The fan is a part of the cooling assembly, it's permanently attached to the heatsink. If it started making noise, you'll have to replace the entire cooling assembly.
There are two different assemblies out there. The older assembly has part number V000020030 and newer one has part number V000020970. You can use either of them because they are interchangeable.
First of all, remove two screws securing the cover on the bottom remove it.
Now carefully unplug fan cable from the motherboard. Loose four screws securing the heatsink.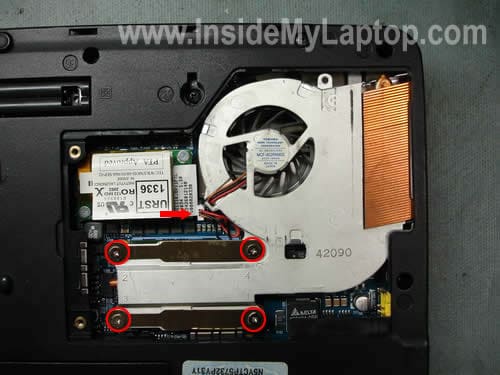 Lift up and remove the heat sink assembly from the motherboard.
You'll see some white stuff on the top of the CPU, it's thermal grease.
If thermal grease dried out, you'll have to replace it. If it looks soft, you can reuse it.
It's possible you can pull the CPU out of the socket while removing the heat sink. I recommend reseating it just in case. Unlock the socket with a flathead scredriver, make sure the processor is seated properly and lock the socket.
On the picture below you can see the newer heat sink assembly on the left side and the old one on the right side, they are a little bit different.
I'm going to reuse the thermal grease. On the picture below I'm collecting it from the old heat sink.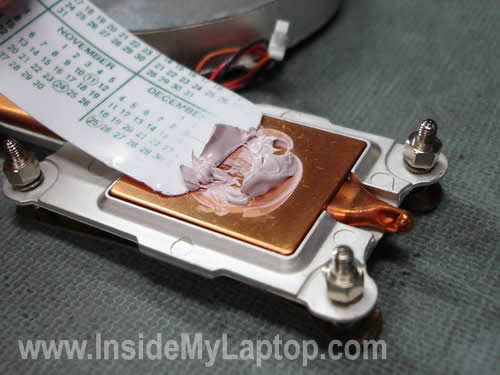 Reapply thermal grease on the top of the CPU.
When I was ready to install the new cooling assembly back on the motherboard, I noticed that it's missing HEX studs.
They came out with the old heat sink. I removed all four HEX studs from the old heatsink and installed them on the motherboard.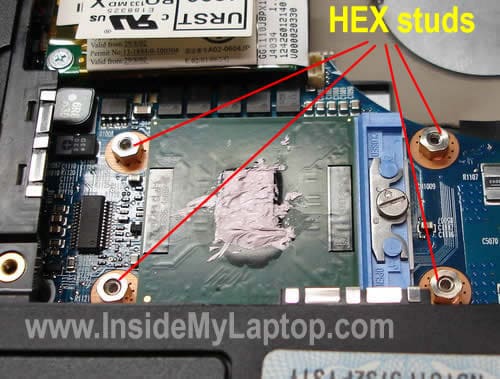 Finally, install the new fan assembly into the laptop. Do not forget to connect the cable to the motherboard.