In this guide I explain how to remove and replace the display panel on a HP Compaq nc6320 (nc6300 series) notebook.
Also you can use this guide for:
1. Replacing the memory module installed in the internal slot.
2. Replacing the keyboard.
3. Replacing the cooling fan.
4. Cleaning the heat sink.
5. Replacing the CMOS (RTC) battery.
STEP 1.
Remove the battery. Under the battery you'll find two screws (red circles) securing the switch board cover. Remove these screws.
Remove the memory cover. Under the memory cover you'll find two screws securing the keyboard. Remove these screws.
STEP 2.
Turn the notebook over and release four latches securing the keyboard.
STEP 3.
Lift up the keyboard and place it upside down on the palm rest.
Now you can access and replace the internal memory module. This model can handle up to 2GB RAM total, so you can install up to 1GB RAM module into each slot. You should use PC2-5300 SODIMM RAM.
You can remove the cooling fan and clean the heat sink.
The CMOS (RTC) battery – a yellow battery on the right side from the processor heatsink.
If your computer sets default date and time after each reboot, the CMOS battery is bad and has to be replaced. Simply unplug the old battery from the motherboard and plug in a new one.
STEP 4.
In order to remove the keyboard, you'll have to unlock the connector and release the cable first.
Very carefully lift up the brown part of the connector about 2 millimeters. The brown part must stay attached to the base.
On the picture below you can see the connector in the unlocked state. Now you can pull the cable our of the connector.
Remove and replace the old keyboard with a new one.
STEP 5.
Unplug the switch board cable from the motherboard.
STEP 6.
Lift up the switch board cover with a sharp object and remove it from the top cover.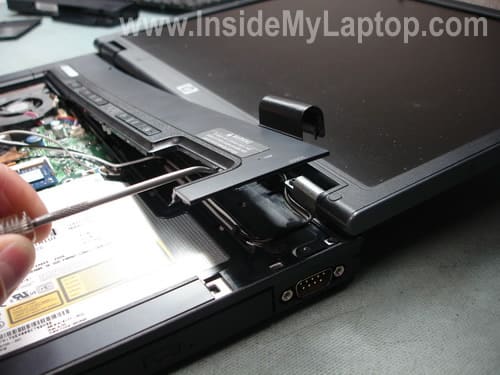 STEP 7.
Remove four screws securing the display hinges.
STEP 8.
Release the Wi-Fi card antenna cables.
Unplug the video cable connector from the motherboard.
Remove two screws securing the display hinges.
STEP 9.
Remove the display panel from the laptop and replace it with a new one if necessary.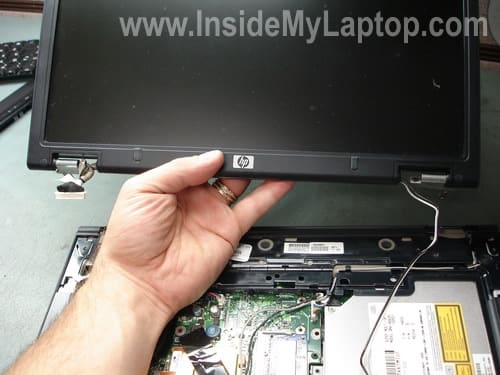 You can find a new display panel using the HP SPS part number witch could be found on a sticker located close the video cable connector.
In my case the SPS part number is 413677-001.
You can support my work!
If you appreciate my work and find this information useful, please support this site. Thank you!