This guide will disassemble Sony Vaio VGN-FE laptop. As an example I took a Sony Vaio VGN-FE855E model.
If this guide works for your Vaio, please mention the model number in comments below. This will help other users with similar laptops.
STEP 1.
Turn off the computer and remove the battery.
Remove the memory and hard drive covers from the bottom. Each cover is secured by two screws.
If you are removing the keyboard, you'll have to remove one more screw (green).
STEP 2.
Remove two screws securing the hard drive mounting bracket.
Slide the hard drive assembly to the left to disconnect it from the motherboard.
Lift up the hard drive and remove it.
The hard drive is mounted inside the caddy.
Remove two screws from each side.
Remove the hard drive from the caddy.
In my laptop I had a 2.5″ 120GB SATA hard drive installed. You can replace it with any other larger 2.5″ SATA HDD.
STEP 3.
In a Sony Vaio VGN-FE laptop both memory modules can be access from the bottom.
In order to remove the memory module spread latches on both sides of the slot until the RAM module pops up at a 20-30 degree angle.
Pull the RAM module from the slot by the edges.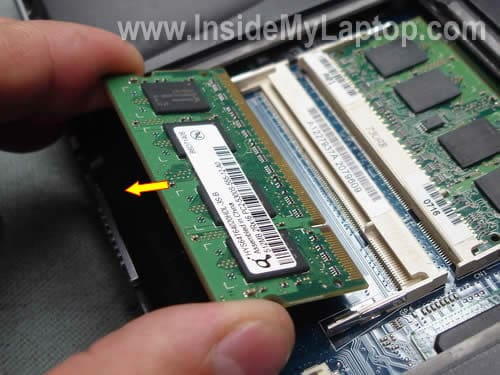 This Vaio laptop can take up to 2GB RAM. You can install up to 1GB memory stick into each slot.
Use DDR2 PC2-5300 or faster SODIMM modules.
STEP 4.
Remove three screws securing the optical CD/DVD drive. Pull the right and remove from the case.
If you are replacing the optical drive, it is necessary to transfer both mounting brackets and the face plate to the new drive.
STEP 5.
Remove three screws located in the battery compartment. These screws are securing the speakers cover.
Start removing the speakers cover with your fingers.
Carefully release and lift up the right side of the cover.
Continue removing the cover with your fingers. It might take some time. It's harder than looks on the pictures.
The speaker cover has been removed.
STEP 6.
Remove four screws securing the keyboard.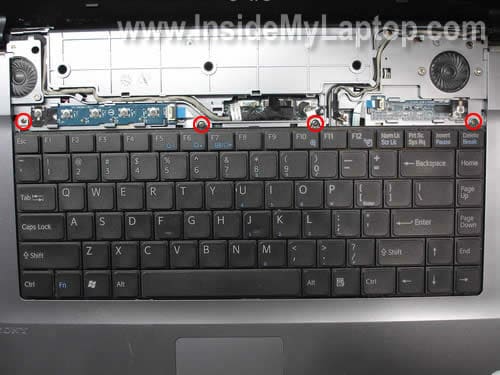 Lift up the keyboard and place it upside down on the palm rest.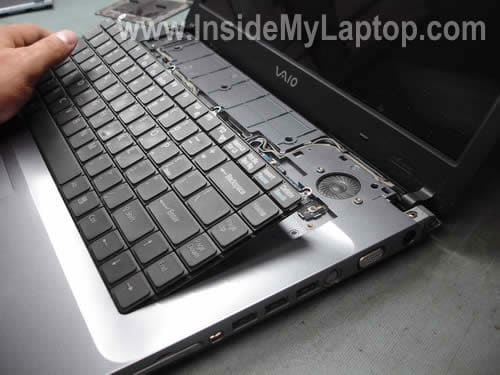 Now you can access the cable connector on the motherboard.
Before you can remove the keyboard, you'll have to unlock the connector and release the cable.
In order to unlock the connector, move the black clip about 2 millimeters to the direction shown by two arrows. The click must stay attached to the white base. Now you can remove the cable from the connector.
WARNING! If you break the connector, you'll have to replace the whole motherboard OR use the laptop with an external keyboard.
Remove the keyboard and replace it with a new one if necessary.
Search for a new one using the part number printed on the back side.