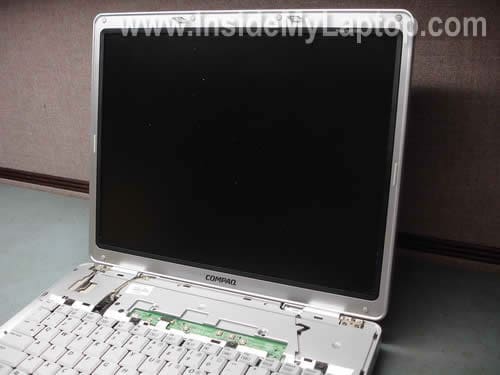 In this post I explain how to remove inverter and replace screen on a Compaq Presario m2000 laptop.
It's way easier to take apart the display panel when the it is separated from the base. You'll find instructions for removing the display panel in my previous guide, just follow steps 1,2,3,9,10.
It is possible to take apart the display while it's still attached to the base but it will be harder to remove the bezel.
Before you start make sure the computer is turned off and the battery is removed.
STEP 1.
There are six screws securing the display bezel to the cover. These screws are hidden under six rubber seals. You'll have to remove these seals first.
Remove screw seals with a sharp object. These seals have a sticky bottom. You can glue them somewhere on so they don't get lost.
STEP 2.
Insert your fingers under the bezel and start separating it from the display cover.
Continue separating the bezel.
It might take some time to release the bezel from hinge covers. It will be even harder if the display is still attached to the base as I mentioned at the beginning.
Finally, the display bezel has been removed.
STEP 3.
The inverter is mounted below the screen. There are no screws securing the inverter.
Remove the ivnerter board from the display assembly and disconnect cables on both ends.
The left cable provides power from the motherboard and the right cable supplies power to the CCFL (backlight) lamp.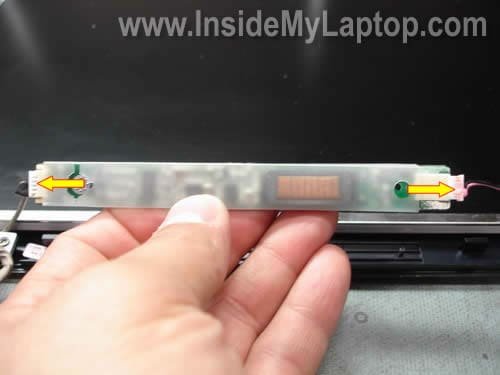 Now you can replace the inverter board with a new one if needed if necessary.
STEP 4.
Let's proceed to the LCD removal.
Remove two screws from the right mounting bracket. Do the same with the left side.
Separate the LCD from the display cover.
Now you can access the back side and disconnect the video cable.
Remove sticky tape securing the connection and uplug the video cable.
Now you can remove the LCD and replace it with a new one if necessary.
The best way to find a new replacement screen is searching by the part number printed on the original one.
In my laptop I had this one: LP150X08 (A5)(N1).
You can support my work!
If you appreciate my work and find this information useful, please support this site. Thank you!