This guide explains how to start factory OS image restore utility on a Dell laptop with Windows Vista.
Running this utility will erase everything from the hard drive and re-image it back to factory defaults.
In this particular case I'm restoring software on a Dell XPS M1530 laptop.
Let's say your Dell came without recovery discs but you have to reinstall Windows because the operating system got corrupted or infected with viruses or spyware. What can you do?
There is a chance that your laptop has a hidden recovery partition and you can re-image the hard drive using files on the hidden partition. This guide may not work for all Dell laptops with Vista.
If the guide works for you, please mention the laptop model name and number in the comments after the post.
STEP 1.
Turn on the laptop and as soon as Dell logo appears on the screen press on the F8 key.
STEP 2.
You should get a screen with advanced boot options.
Select the first option "Repair Your Computer" and press on the Enter key.
STEP 3.
After a while the system restore option box will appear on the screen.
Select your keyboard layout and press on the Next button.
STEP 4.
At the next dialog box it will ask you for the user name and password.
Select your name from the drop down menu (you have to know the administrator password). Enter the password and press OK button.
STEP 5.
Click on the  Dell Factory Image Restore option in the next box.
STEP 6.
Finally, you'll get the Dell Factory Image Restore box. Click Next and follow instructions on the screen.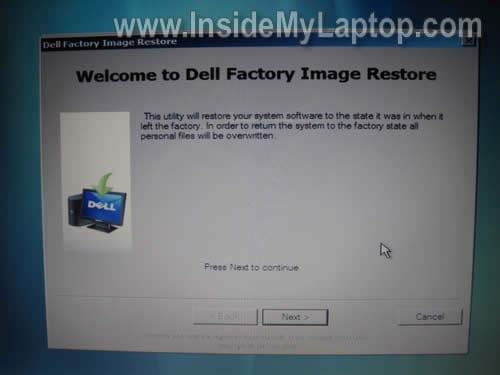 WARNING! Back up all personal files before running this utility. The hard drive will be reformatted and all personal files will be erased during the recovery process.