In this guide I explain how to disassemble an HP ENVY 15 notebook.
My goal is removing and replacing failed keyboard (a few keys stopped working).
Before you start taking it apart, make sure the computer is turned off and battery removed.
STEP 1.
Remove three screws securing the memory cover.
STEP 2.
Remove the cover.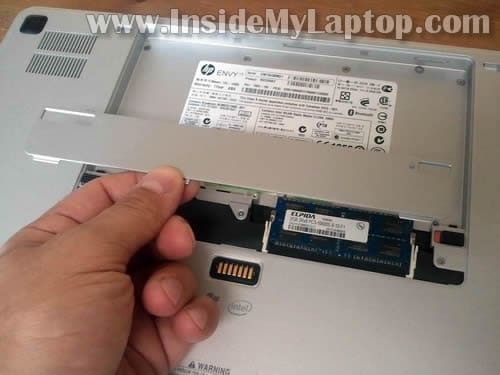 STEP 3.
Remove four rubber feet. They are glued to the bottom case with double sticky tape.
STEP 4.
Remove all screws from the bottom.
STEP 5.
Now you can lift up and separate the top cover assembly from the base.
STEP 6.
Be careful. There are cables connecting the top cover assembly to the motherboard.
You'll have to disconnect those cables before removing the top cover assembly.
1. LED board cable.
2. Touchpad cable.
3. Keyboard cable.
STEP 7.
Unplug the LED board cable connector from the motherboard.
STEP 8.
Pull the touchpad cable from the connector on the motherboard.
This connector has no locking mechanism.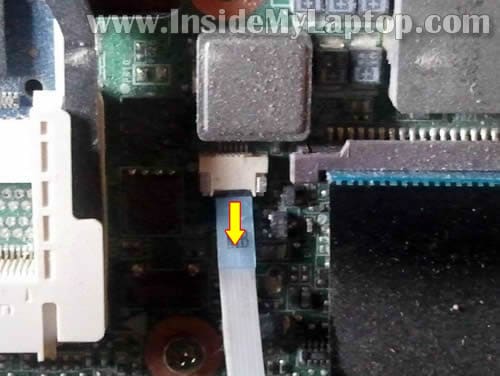 STEP 9.
In order to remove the keyboard cable you'll have to unlock the connector first.
On the following picture the connector is shown in the locked position.
STEP 10.
Very carefully lift up the brown locking tab about 2-3 millimeters.
The locking tab must stay attached to the connector base.
On the following picture the connector shown in the unlocked position.
STEP 11.
Now you can pull the cable from the connector.
STEP 12.
After all cables I mentioned in the step 6 are disconnected, you can remove the top cover assembly.
STEP 13.
When the top cover removed, you can access:
– Hard drive.
– All internal memory modules/slots. HP ENVY 15 has four memory slots.
– CMOS battery.
– All three cooling fans.
STEP 14.
The keyboard is mounted to the top cover assembly and covered with black protective film.
STEP 15.
Remove the black film.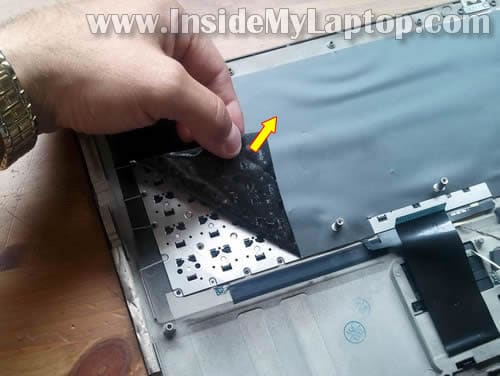 STEP 16.
Remove 60 (yes, sixty) tiny screws securing the keyboard to the top cover.
STEP 17.
After all screws removed, you'll be able to lift up and remove the keyboard.
STEP 18.
Replace it with a new one.
You can search for a new keyboard using the HP part number.
Here are part numbers for HP ENVY 15 I found in the official service manual:
Keyboards with bronze finish:
■ For use in Belgium 576835-A41
■ For use in Brazil 576835-201
■ For use in Denmark, Finland, and Norway 576835-DH1
■ For use in France 576835-051
■ For use in French Canada 576835-121
■ For use in Germany 576835-041
■ For use in Italy 576835-061
■ For use in Latin America 576835-161
■ For use in the Netherlands 576835-B31
■ For use in Russia 576835-251
■ For use in Saudi Arabia 576835-171
■ For use in South Korea 576835-AD1
■ For use in Spain 576835-071
■ For use in Switzerland 576835-BG1
■ For use in the United Kingdom and Singapore 576835-031
■ For use in the United States 576835-001
Keyboards with black finish:
■ For use in France 580132-051
■ For use in Saudi Arabia 580132-171
■ For use in the United Kingdom and Singapore 580132-031
■ For use in the United States 580132-001