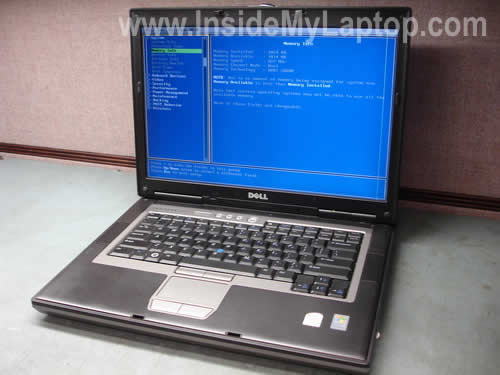 In this post I explain how to replace or upgrade memory (aka RAM) in a Dell Latitude D830 notebook. Also, these instructions should work for a Dell Latitude D820 notebooks and maybe some other models. Please mention you notebook model in the comments if this guide works for you.
You can check the amount of installed memory in the BIOS setup menu. As you see, in my laptop I have 1024MB (or 1GB) memory installed.
Dell Latitude D830 notebook requires DDR2 memory modules. You should use PC2-5300 SODIMM memory which runs at 667MHz.You can use same memory type for a Latitude D820 notebook too.
Dell Latitude D820/D830 can take up to 4GB memory total. You can install up to 2GB memory in each slot (there are two slots available).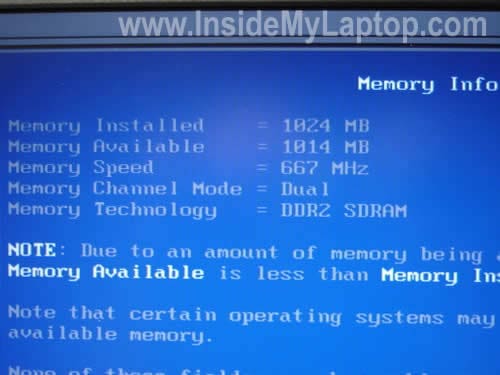 Now the tricky part.
If you remove the memory slot cover from the bottom of the notebook, you'll find only one slot – DIMM B. Where's the first slot – DIMM A?
It's hidden under the keyboard.  Yep, in order to access the first memory slot we'll have to remove the keyboard.
Before you start, please turn off the laptop, unplug the AC power adapter and remove the battery.
STEP 1.
Lift up one side of the keyboard cover with a small flat head screwdriver.
STEP 2.
Remove the keyboard cover.
STEP 3.
Remove three screws securing the keyboard.
STEP 4.
Lift up the keyboard and placed it on the display panel or palm rest, so you can access the memory slot A. Be careful, the keyboard is attached to the motherboard via a flat ribbon cable.
STEP 5.
The memory slot A is located just above the touch pad buttons.
In order to remove the existing memory module carefully spread latches on both sides of the memory slot.
The memory module will pop up at a 30 degree angle.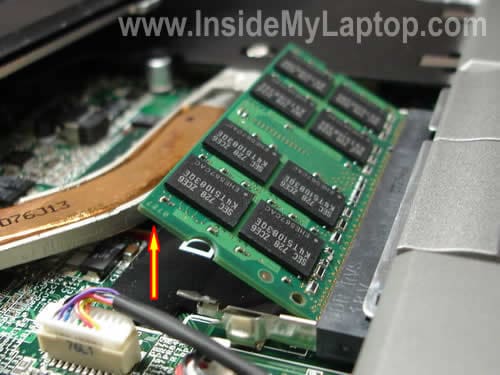 Pull the memory module from the slot A by the edges.
The slot DIMM A is empty and you can install a new RAM module in there.
In this notebook memory can run in dual-channel mode which doubles the amount of available memory bandwidth and improves the notebook performance.
In order to run your notebook dual-channel mode you must have two identical memory modules in slots A and B.
For example, if you have a 1GB module installed into the slot A, you have to install an identical 1GB module into the slot B. In this case the total amount of memory installed into the notebook will be 2GB and will run in dual-channel mode.
Here's another example. You have a 1GB module in the slot A and install a 2GB module into the slot B. In this case the total amount of memory installed into the notebook will be 3GB but it will run in regular mode, not dual-channel mode.
Did I help you $ave some money? Please consider making a donation. THANK YOU!
Donate via PayPal