In this guide I show how to remove and replace LCD screen in an Acer Aspire 5520 laptop.
Also, you can use this guide for removing and replacing the inverter board.
By the way, in my previous post I explain how to remove laptop hard drive, memory, cooling fan and keyboard.
Before you start, make sure the laptop is turned off and battery removed.
STEP 1.
On the screen bezel there are four rubber screw covers.
Under those covers you'll find four screws securing the screen bezel to the cover.
You can remove screw covers with a sharp object.
All covers has sticky bottom. You can glue them somewhere on the bezel so they don't get lost during laptop disassembly.
STEP 2.
Start separating the screen bezel from the display cover.
I'm using a guitar pick as a case cracker.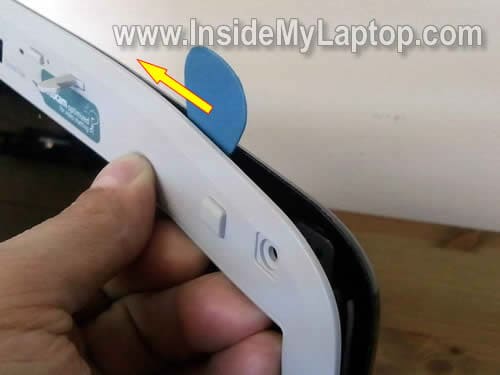 STEP 3.
Continue separating the bezel.
STEP 4.
Carefully lift up the bezel and separate it from the hinge.
STEP 5.
The screen bezel has been removed.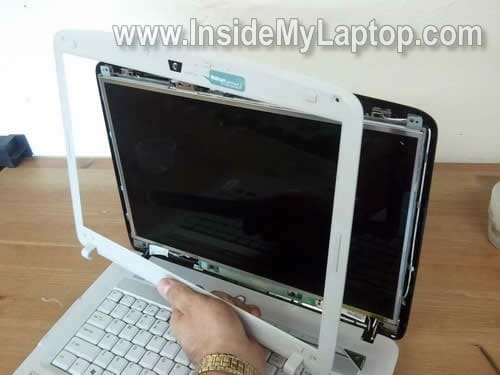 STEP 6.
The inverter board mounted below the LCD screen.
You can remove the inverter board after you remove the screen.
Remove four screws securing the LCD screen assembly on the bottom.
STEP 7.
Disconnect cable from the web camera module located on the top of the display assembly.
STEP 8.
Now you can separate LCD screen assembly from the display cover and place it face down on the keyboard.
On the back side of the scree you'll find the video cable connected to the screen.
STEP 9.
Unplug the video cable connector from the screen.
STEP 10.
Disconnect the screen backlight cable from the right side of the inverter board.
If you are replacing the inverter, simply disconnect one more cable from the other side of the inverter and remove it from the laptop.
You can search for a new Acer Aspire 5520 inverter here.
STEP 11.
After the LCD screen disconnected from the video cable and inverter board, you can start removing it from the laptop.
Remove four screws securing the LCD screen to the mounting bracket on the right side.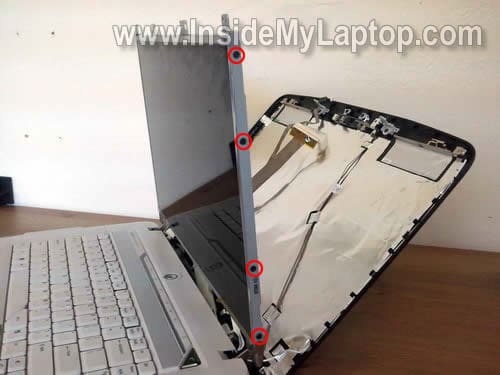 STEP 12.
Remove four more screws on the left side.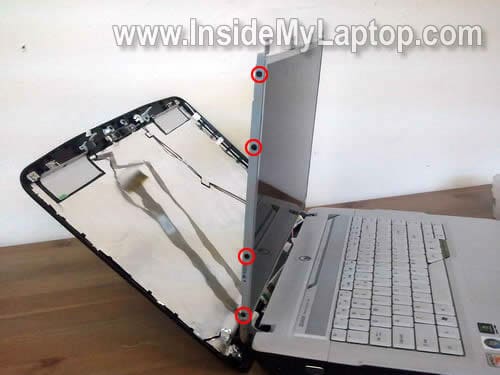 STEP 13.
Now you can remove the LCD screen and replace it with a new one.
New replacement LCD screen for Acer Aspire 5520 laptops available here.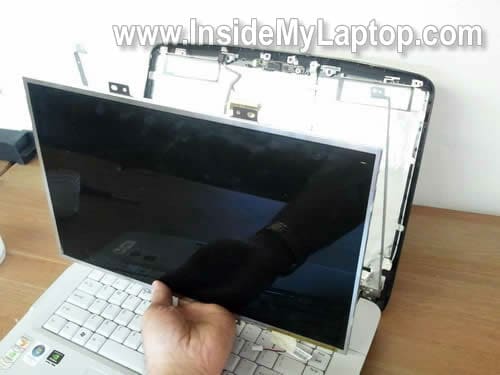 The original screen in my Acer Aspire 5520 laptop was made by Chi Mei Optoelectronics and had the following model number: N154l2-L05.
Most likely you can find a few compatible LCD screen available on the market.
Did I help you $ave some money? Please consider making a donation. THANK YOU!