Today I will remove and replace a damaged keyboard on a Dell Inspiron 1525 laptop. I'm replacing the keyboard because my customer spilled soda on it and all keys are sticky. If you need a new keyboard for your Dell Inspiron 1525 laptop you can find it here for less than $20.
First of all, turn off the laptop, unplug the power adapter and remove the battery.
STEP 1.
Remove two screws in the battery compartment. These screws securing the keyboard bezel.
STEP 2.
Carefully lift up one side of the keyboard bezel with a screwdriver.
STEP 3.
Continue removing the keyboard bezel with your fingers. Be careful, there is a thin ribbon cable connecting the button board to the motherboard. The cable has to stay connected to the motherboard.
STEP 4.
Turn the keyboard bezel over. Make sure the cable is still connected.
Remove two screws securing the keyboard.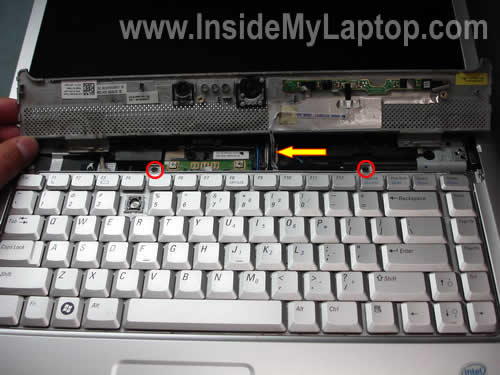 STEP 5.
Lift up the keyboard.
The keyboard is connected to the motherboard via a flat ribbon cable. Before you can remove the keyboard, you'll have to unlock the connector and release the cable.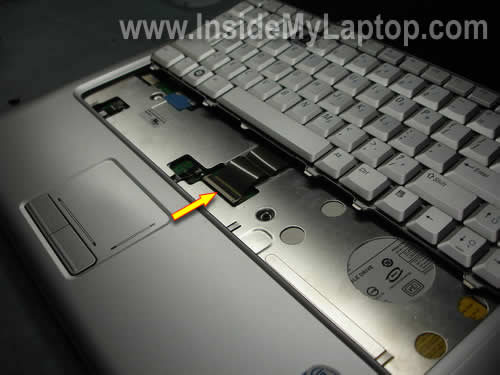 On the picture below you can see the connector in the locked position.
Now the connector is unlocked and the cable can be released.
STEP 6.
Remove and replace the damaged keyboard with a new keyboard.
The keyboard part number could be found on the sticker. The part number follows letters CN. In my laptop the keyboard part number is 0NK750.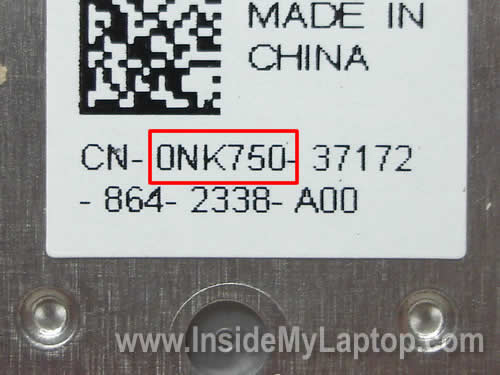 UPDATE: I just created a new guide for Dell Inspiron 1525 laptop. It explains how to remove and replace LCD screen and inverter board.
Did I help you $ave some money? Please consider making a donation. THANK YOU!