Here I explain how to replace broken LCD screen on a Dell Inspiron 1564 laptop.
Most likely this guide will work for some other Dell laptops. If it works for you, please mention the model number in comments after the post.
Before you start, make sure the laptop is turned off and battery removed.
STEP 1.
Start separating the screen bezel from the display cover with a piece of soft plastic. I'm using a guitar pick for that.
There are hidden plastic latches securing the bezel. You'll have to wiggle the bezel up and down to disengage those latches.
STEP 2.
Continue separating the bezel with your fingers.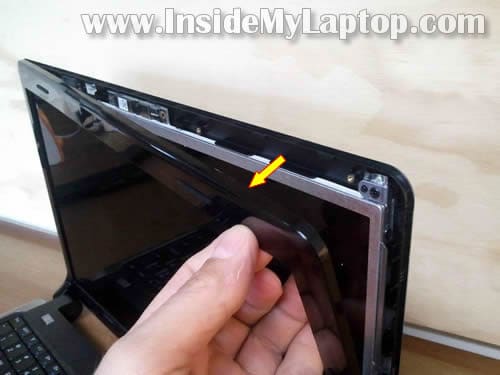 STEP 3.
The bezel had been separated on the upper side of the display. Now move to the bottom side of the display.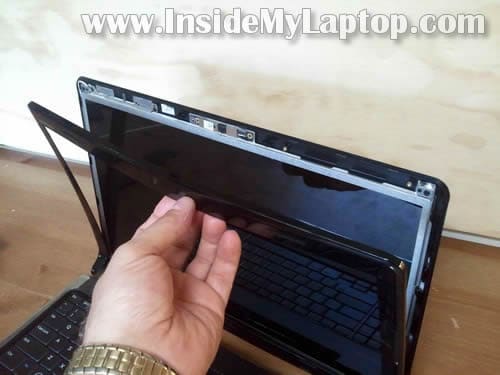 STEP 4.
Separate screen bezel from the LCD screen on the bottom of the display assembly.
Continue removing the bezel with your fingers.
STEP 5.
Remove the bezel.
STEP 6.
Remove six screws securing the screen assembly to the display cover.
STEP 7.
Now you can separate the screen from the cover.
Be careful, the screen cable still attached to the webcam module and screen itself.
Do not move the screen too far from the cover.
STEP 8.
Place the screen face down on the keyboard.
Now you can access the video cable connector on the back of the screen.
NOTE: if your laptop has a regular CCFL backlit LCD screen (not LED screen) you'll have to do one more step – disconnect cable from the inverter board.
LED-backlit LCD screens do not require an inverter. It's connected directly to the motherboard.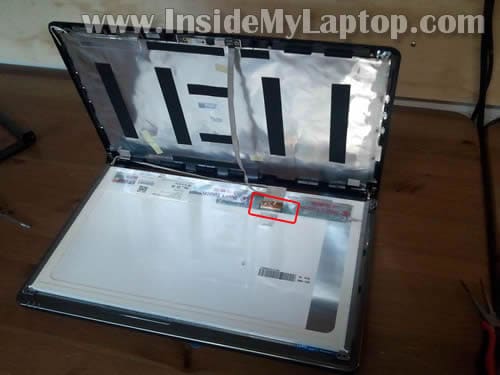 STEP 9.
Remove sticky tape securing the video cable connector.
Unplug the video cable connector from the LCD screen.
STEP 10.
Now you can remove the LCD screen assembly.
STEP 11.
Transfer both mounting brackets to the new screen.
In order to remove the bracket you'll have to remove three screws.
Now you can replace the broken LCD screen with a new one.
Make sure to find the correct LCD screen for your laptop.
After the broken screen is removed, you can search for the screen model on the back. Google the model number to find screen specifications (backligt type and resolution). New replacement screens for Dell Inspiron 1564 laptops available here.
I believe Dell Inspiron 1564 laptop comes with one of the following screens:
- 15.6″ WXGA (1366X768) HD screen with CCFL backlight.
- 15.6″ WXGA (1366X768) HD LED backlit screen.
- 15.6″ WXGA++ (1600×900) HD+ backlit screen.
- 15.6″ WUXGA (1920×1080) Full HD LED backlit screen.
Did I help you $ave some money? Please consider making a donation. THANK YOU!