In this guide I explain how to remove the keyboard and replace the launch board (aka button board) in a Lenovo 3000 laptop. As an example I took a Lenovo 3000 v200 laptop but I believe the disassembly steps will be the same or very similar for all models in the 3000 line. If my instructions work for you please mention the laptop model in the comments below.
The launch board is a board with the power and volume control buttons located under the keyboard bezel. I'm replacing the launch board because one of the volume control buttons got stuck in the pressed position and because of that the volume is set to maximum all the time. When I try turning it down, the volume slider goes up by itself. Cleaning the button with alcohol and contact cleaner didn't help and I decided to replace the board.
LAPTOP DISASSEMBLY INSTRUCTIONS.
First of all, turn off the laptop, unplug the power adapter and remove the battery.
STEP 1.
Insert a small flat head screwdriver between the keyboard bezel and laptop base. Carefully lift up one side of the keyboard bezel.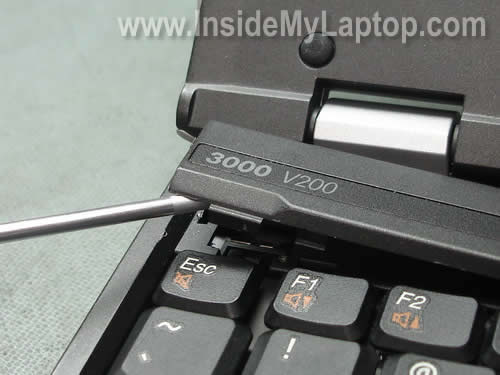 Continue removing the keyboard bezel with your fingers.
STEP 2.
The launch board is located above the keyboard. In order to release the launch board cable we'll have to remove the keyboard first.
Remove one screw securing the keyboard.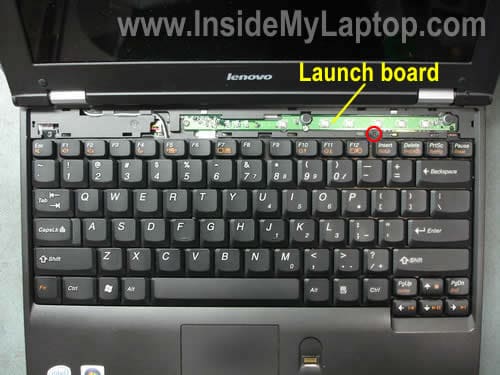 Lift up the keyboard as it shown on the picture below.
Turn the keyboard upside down and place it on the palm rest.
The keyboard is still connected to the motherboard. If you are replacing only the launch board, it's not necessary to disconnect the keyboard from the motherboard.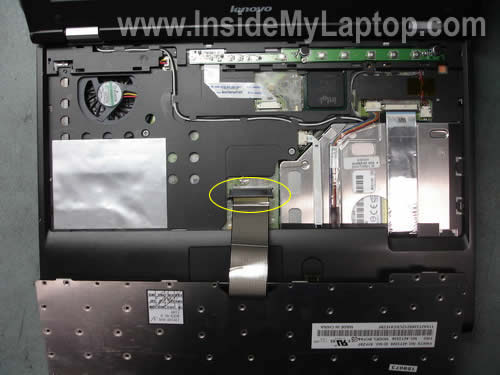 If you decide to remove the keyboard, you'll have to unlock the connector first. On the picture below you can see the keyboard cable connector in the unlocked position.
After the connector is unlocked you can release the cable and remove the keyboard.
STEP 3.
Remove two screws securing the launch board. Disconnect the launch board cable from the motherboard.
Lift up and remove the launch board.
Transfer the flat ribbon cable to the new launch board and install it back into the laptop.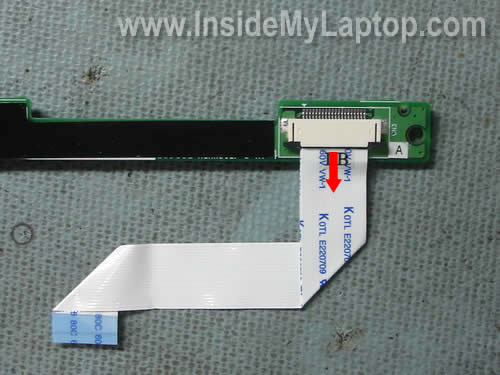 Did I help you $ave some money? Please consider making a donation. THANK YOU!
Donate via PayPal