In the following guide I explain how to remove the keyboard and both memory modules from a Dell Inspiron 700m laptop.
You can use the guide for replacing a damaged keyboard or replacing/upgrading memory modules.
Dell Inspiron 700m laptop can take up to 2GB memory total. You can install up to 1GB memory stick in each slot. Use PC2700 DDR SDRAM SODIMM memory modules.
There are two memory slots in this laptop. One of them located on the button and another one under the keyboard.
Let's take it apart. First of all, turn off the laptop and remove the battery.
STEP 1.
Remove two screws securing memory cover on the bottom.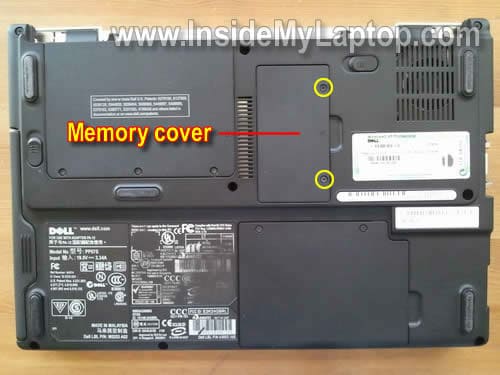 STEP 2.
Carefully spread latches on both sides of the memory slot.
The memory module will pop up at a 30 degree angle.
Pull the memory by the edges.
Now you can install a new 1GB module instead.
In the following steps we'll remove the keyboard and access the internal memory slot.
STEP 3.
Lift up the left side of the power button cover with a small screwdriver.
Continue removing the cover with your fingers.
The power button cover has been removed.
STEP 4.
Remove two screws securing the keyboard.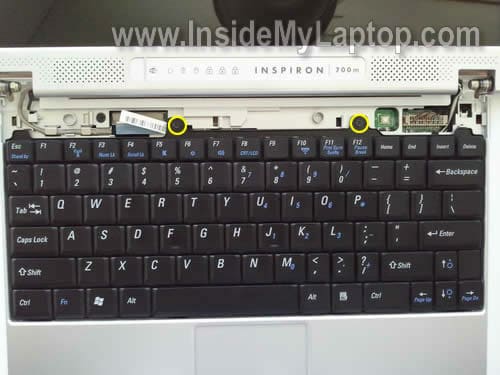 STEP 5.
Lift up the keyboard and remove it from the laptop. Be careful because the keyboard still attached to the motherboard.
STEP 6.
If you are replacing the keyboard, you have to unlock the keyboard connector first. Only after that you can pull the cable and remove the keyboard.
In order to unlock the connector, very carefully move the locking clip about 2 millimeters towards the LCD screen.
Do not disconnect the locking clip from the connector base. The connector clip must stay attached to the base.
The cable is jammed between the locking clip and connector base.
After you unlock the connector, you can pull the cable and remove the keyboard.
Looking for a new Dell Inspiron 700m keyboard? You'll find a brand new keyboard here.
STEP 7.
If you just removing/upgrading memory, it's not necessary to disconnect the keyboard. Simply turn it upside down and place on the palmrest.
Remove two screws from the internal memory slot cover. Remove the cover.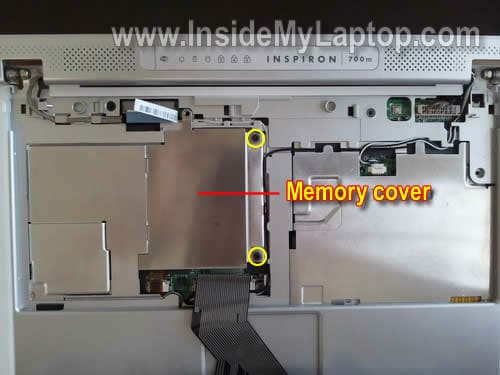 STEP 8.
Remove memory module from the internal slot same way you removed from the external slot.
By they way, my laptop had only one speaker working. When I removed the power button cover I found the problem.
Apparently this is a know issue with Dell Inspiron 700m laptops.
If one (or both) speakers stopped working, but you still can hear sound in headphones, check those cables.
If cables are damaged, you'll have to replace the speaker assembly (located inside the display panel) or solder the damaged cable (cables) back together.
Did I help you $ave some money? Please consider making a donation. THANK YOU!