In the following guide I'll explain how to remove and replace the keyboard on a Sony Vaio PCG-FXA63 laptop.
I assume this guide will work for some other Sony Vaio PCG-FXA models.
Also, you can use this guide for accessing and replacing the hard drive, DVD drive and cooling fan. All three could be found under the keyboard.
STEP 1.
Remove on screw on the left side. This screw secures the speaker/hinges cover.
STEP 2.
Slide the cover to the right side as it shown on the picture below.
STEP 3.
Lift up the cover and place it upside down. Be careful, the power button board is still attached to the motherboard with a white ribbon cable. You can remove the keyboard without disconnecting the power button board from the motherboard.
STEP 4.
The keyboard cable is connected to the motherboard. Before you pull the cable you'll have to unlock the connector.
Using your fingernails pull the top side of the connector upwards about 2 millimeters, not more. Now you can pull the cable from the connector.
Remove one screw securing the keyboard to the motherboard.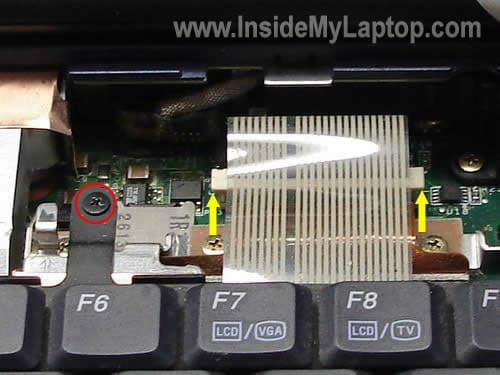 STEP 5.
Remove the keyboard and replace it with a new one if necessary.
After the keyboard has been removed, you'll get an access to the cooling fan, hard drive, DVD drive and RTC (CMOS) battery.