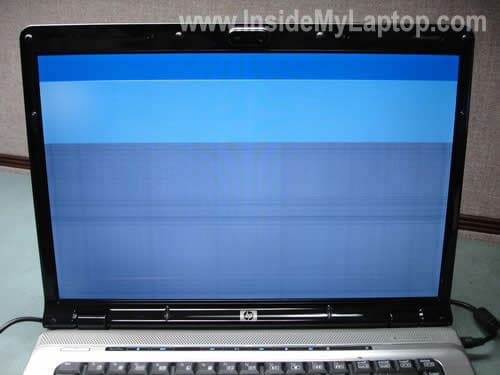 In this guide I'll be replacing failed LCD screen on a HP Pavilion dv6000 laptop.
In my case the lower 2/3 of the screen has become garbled . An external monitor displays image properly.
STEP 1.
There are six rubber screw covers on the display bezel.
You'll have to remove all covers.
You can remove them a sharp object.
STEP 2.
Remove six screws found under the rubber covers.
STEP 3.
Insert fingers under the bezel and start separating it from the back cover.
There are small hidden latches securing the bezel and you'll have to wiggle it in order to release the bezel.
Continue removing it. Be careful, the bezel made of fragile plastic.
The bezel has been removed.
STEP 4.
Now you can get an access to the inverter board which is mounted on the lower part of the display assembly.
Remove one screw securing the board. Disconnect cables on both sides of the inverter.
The left cable supplies power from the motherboard and the right cable connected to the backlight lamp inside the LCD panel.
The inverter board has been removed.
STEP 5.
Remove two screws securing each display hinge/bracket.
STEP 6.
Now you can get an access to the back side and access the LCD cable.
Remove clear tape covering the connector and disconnect the LCD cable. Simply unplug the cable from the connector.
STEP 7.
Remove two screws from the right mounting bracket.
Remove two more from the left bracket.
STEP 8.
Now you can remove the defective LCD screen and replace it with a new one.
Assemble the display back together.
The LCD has been removed.
The following part numbers for HP Pavilion dv6000 could be helpful to you. I found them in the official maintenance and service guide.
15.4-inch, WXGA, SVA display panel with BrightView (Glossy) 431386-001
15.4-inch, WXGA, SVA display panel AntiGlare (Matte) 431387-001
LCD inverter 431391-001
UPDATE: In one of the next guides I explain how to completely disassemble the laptop. This guide should fit HP Pavilion dv6000.
You can support my work!
If you appreciate my work and find this information useful, please support this site. Thank you!