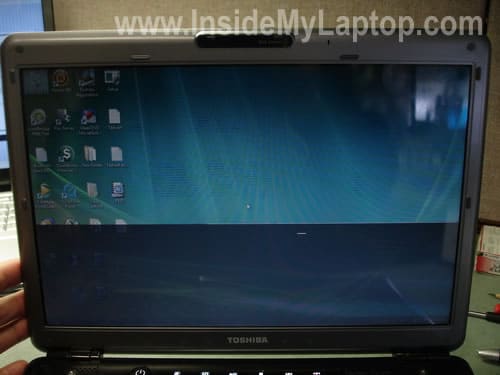 I have seen a few Toshiba Satellite M305 and M305D laptops with exactly the same display problem. When you move the display panel, the image on the screen flickers, some random horizontal lines appear in random places or the image disappears at all. As soon as you stop moving the display, the image ether turns back to normal or the display continue to remain black.
I did some research and found that this problem could be related to the display cable made by CMI.
How can you tell if the display cable was made by CMI? You'll have to open up the display panel and take a look at the letters and numbers below the barcode on the cable. If first three letters are CMI, the cable was made by CMI.
The following models could have a faulty display cable: Toshiba Satellite M300, M305, M305D and Toshiba Satellite Pro M300.
If you experience a similar problem with your Satellite M305 or M305D laptop, try replacing the display cable first. Visit Irisvista.com for Toshiba disassembly guides. If the problem still exists, even after replacing the cable, apparently it's related to the LCD screen.
If the laptop is still under warranty do not open the case or you will lose the warranty. Take your laptop to the authorized repair center.