In this guide I explain how to disassemble an HP ZBook Firefly 15 G8 laptop.
HP ZBook Firefly 15 G8 design highlights:
– The laptop supports only one PCIe NVMe solid state drive.
– There are two memory slots with maximum of 64GB RAM supported.
– The cooling fan is easily accessible and removable.
The disassembly process is very simple and you will need just a Phillips screwdriver and optional tweezers.
Bottom cover removal
There are five screws securing the bottom cover. These are captive screws and you cannot remove them completely. When you unscrews these screws they will remain attached to the cover.
Start removing the bottom cover from the laptop on the back side around the display hinges area.
Remove the bottom cover completely.
Battery removal
Remove four screws securing the battery.
Disconnect the battery cable from the motherboard. Simply pull the cable connector out in the shown direction.
Remove the battery and replace it if necessary.
If you need to find a replacement battery you can search using the model number CC03XL or HP spare part number L77991-005.
Solid state drive removal
HP ZBook Firefly 15 G8 laptop supports only one internal storage drive. This is PCIe Gen3 x4 NVMe M.2 2280 solid state drive (SSD).
Remove one screw securing the SSD.
Pull the SSD out to remove it.
Memory removal
HP ZBook Firefly 15 G8 laptop has two memory (RAM) slots. The slots are hidden under the metal cover.
The laptop can support up to 64GB (2x32GB) RAM total. From the factory it's configured with DDR4-2666 memory. It's possible to use DDR4-3200 as it's backward compatible.
In order to access RAM slots you'll have to pry up and remove the metal cover.
Now you can access and remove the memory module if necessary.
When you upgrade RAM, install identical memory modules in both slots so they run in more efficient dual-channel mode.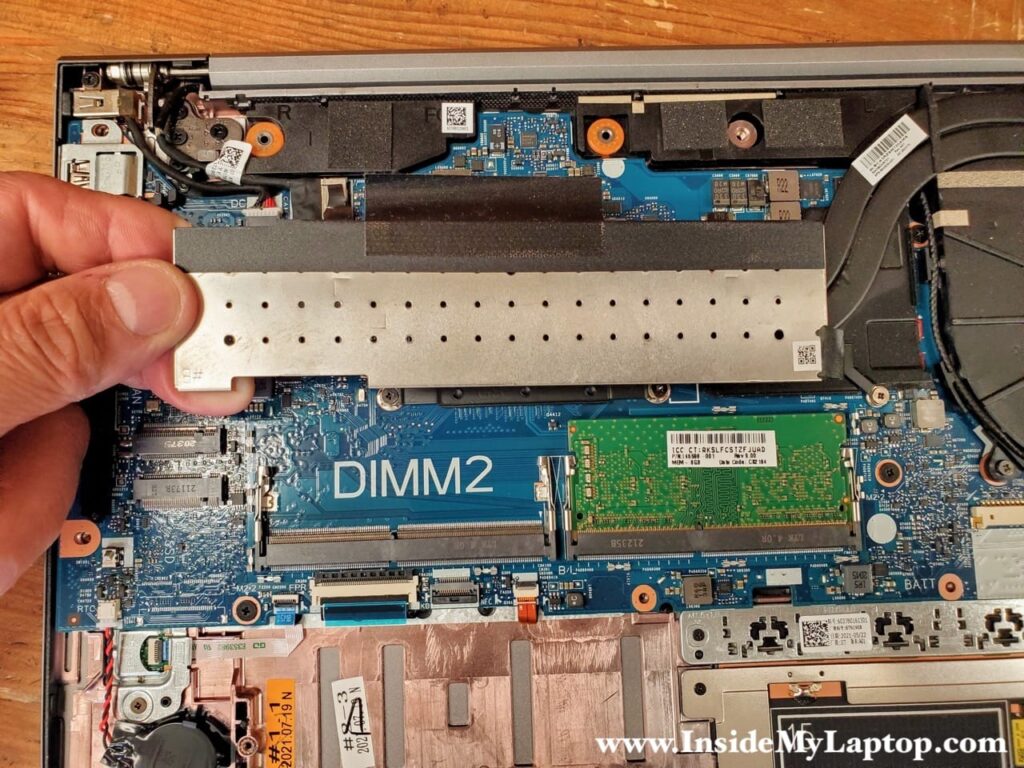 Cooling fan removal
Remove three screws securing the cooling fan.
Un-route the speaker cable from the left side of the fan.
Un-route the display cable and both wireless antenna cables from the right side of the fan.
Disconnect the fan cable from the motherboard.
Remove the fan. Now you can clean the fan or replace it if necessary.
Here's a picture of the other side.
Fan model: Sunon EG75050S1-1C021-S9A.
Wireless card removal
Before removing the wireless card it's necessary to disconnect antenna cables.
Lift up each antenna cable to detach them from the wireless card. Remove one screw securing the card.
Now you can pull the wireless card out.
This wireless card has HP spare part number L92724-005. This is Intel Dual Band 802.11ac 2.4Gbps WiFi Bluetooth 5.0 Card model AX201NGW.
You can support my work!
If you appreciate my work and find this information useful, please support this site. Thank you!