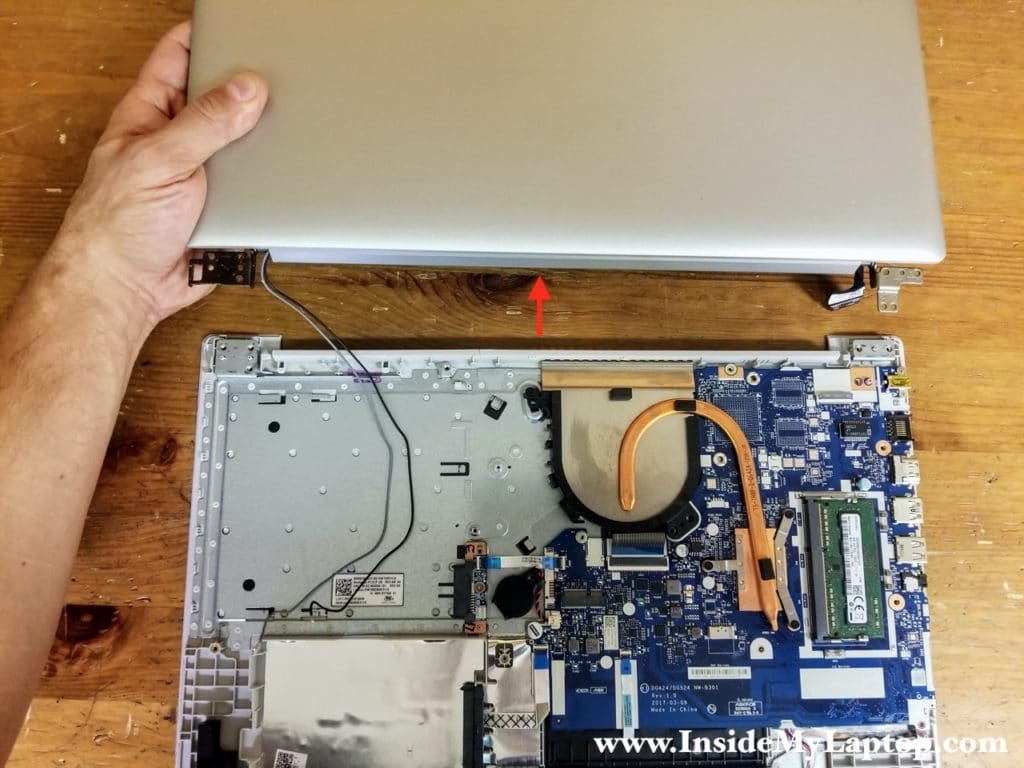 In this tutorial I show how to replace the LCD screen on a Lenovo Ideapad 320 laptop. You can use this guide on the following 15″ and 14″ models:
Ideapad 320-15IAP/Ideapad 320-15AST
Ideapad 320-15ABR/Ideapad 320-15ABR Touch
Ideapad 320-14IAP/Ideapad 320-14AST
In order to remove and replace the LCD screen it's necessary to separate the display panel from the laptop base assembly. Otherwise you will not be able to open up the display panel.
In my previous guide I explained how to separate the display panel from the base assembly (shown in the disassembly steps 1-11).
LCD screen removal steps
STEP 1.
Slide the hinge cover to the right to release hidden latches securing the cover.
STEP 2.
Lift up and remove the hinge cover.
STEP 3.
Insert your fingers between the front bezel and the LCD screen. Wiggle the bezel to separate it from the back cover. There are multiple hidden latches securing the bezel. You'll have to apply some reasonable force to separate two parts from each other. Use your best judgement here.
Continue removing the bezel on the top side of the display. After that move to the sides and the bottom.
STEP 4.
Remove the front bezel completely.
STEP 5.
Remove four Phillips screws securing the LCD screen to the display back cover.
STEP 6.
Separate the screen from the back cover and place it the front side down on the desk. Be careful, the display cable is still connected to the screen.
STEP 7.
Now you can access the display cable connector and unplug the cable from the screen.
Here's how to disconnect the cable.
1. Lift up the metal bracket securing the connection.
2. Carefully pull the cable out of the connector on the screen.
When you plug the cable back into the new screen, make sure the connector is aligned correctly and properly locked.
Now you can remove the screen and replace it with a new one. One of the ways to find a new screen is googling the model number printed on the original one.
In my Lenovo Ideapad 320 laptop I had this model installed: N156BGA-EA2 Rev.C1
With the screen removed you can easily access and replace both display hinges if necessary.
To install a new screen just follow all these disassembly steps in reverse order.