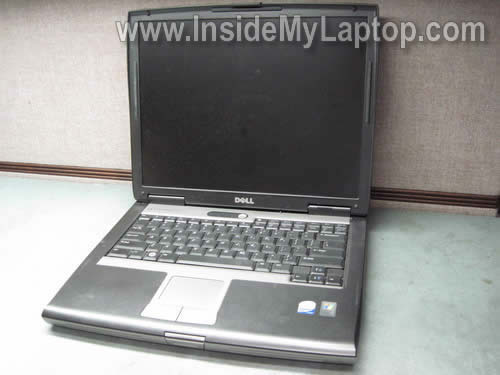 In this guide I explain how to access the memory module installed into the internal slot on a Dell Latitude D520 laptop. You can use this guide for removing/replacing the keyboard or replacing/upgrading laptop memory.
Dell Latitude D520 laptop has two memory slots. One of them can be easily accessed through the door on the bottom of the laptop. The second memory slot is hidden under the keyboard.
Before you start, don't forget to turn off the laptop and remove the battery.
On the following picture you can see the memory module installed into the external slot located on the bottom of the laptop.
We'll start removing the keyboard with removing the bezel.
Insert a flat head screwdriver under the right side of the bezel and carefully lift it up.
Continue removing the keyboard bezel with your fingers.
Now you can remove two screws securing the keyboard.
Carefully lift up the keyboard and place it upside down on the palm rest.
Under the keyboard you get access to the cooling fan.
If the cooling fan looks dirty, you can remove dust with compressed air.
By the way, if the laptop shuts down on its own while running multiple applications, most likely it happens because of CPU overheating. In this case cleaning the cooling fan and heat sink will fix the problem.
In order to access the memory module installed in the internal slot, you'll have to turn the keyboard as it shown on the picture below.
It's not necessary to disconnect the keyboard from the motherboard. Leave it connected.
To remove the memory module simply spread latches on both sides until the module pops up at a 30 degree angle.
Now you can pull the memory module from the internal slot and replace it with a new one if needed.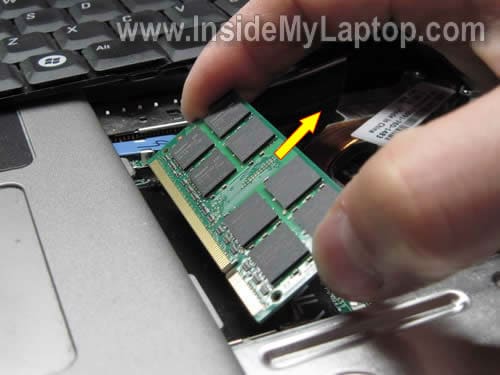 Dell Latitude D520 can take up to 4GB memory total. You can install up to 2GB memory sticks into each slot.
Dell recommends using PC2-5300 DDR2-667 200pin SDRAM SODIMM modules.
It's possible to use faster memory modules, for example PC2-6400 DDR2-800 should work fine, but they will clock down and run at PC2-5300 speed.
It's not necessary to change any settings after upgrading laptop memory. The laptop will detect and configure new memory on the first start up.
Did I help you $ave some money? Please consider making a donation. THANK YOU!
Donate via PayPal