In this guide I explain how to upgrade memory (RAM) in a Dell Inspiron 9300 laptop.
This model has two memory slots available for upgrades and both slots are accessible through the service door on the bottom.
Even inexperienced users can upgrade memory in a Dell Inspiron 9300.
Let's do it step-by-step.

STEP 1.
Turn off the computer and remove the battery.
Remove couple of screws securing the memory cover. Remove the cover.
STEP 2.
Under the cover you'll find two slots. In my case both slots are occupied by two 256MB PC2-4200 RAM.
In order to remove the memory module you'll have to carefully spread latches on the sides.
The memory module will pop up at a 20-30 degree angle.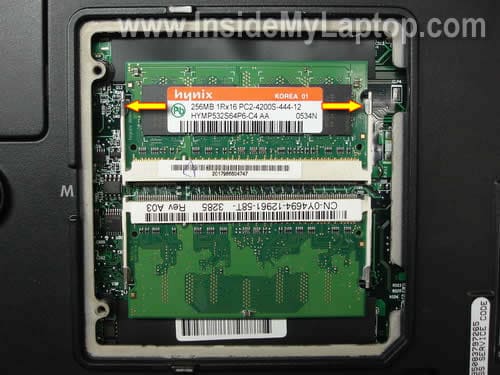 STEP 3.
Pull the memory module from the slot. Do the same with the second module.
Total RAM supported by Dell Inspiron 9300 is 2GB.
Each slot can take up to 1GB module.  You can use DDR-2 PC2-4200, PC-5300 or PC2-6400 modules.
By the way, you can install different size modules into different slots.
For example, you can keep one of the 256MB modules in one slot and install a new 1GB module into the second slot. In this case the laptop will see 1.25GB.
STEP 4.
New RAM modules should be detected and configured automatically. You don't have to change anything in the laptop settings.
When you turn it on, you'll see the following message on the screen: "The amount of system memory has changed."
The laptop may freeze temporarily at this screen. Do not turn it off, just wait.
After a while, you'll get another message: "Strike the F1 key to continue, F2 to run the setup utility".
If you press on F1, the laptop will start loading Windows.
If you press on F2, it will take it to the BIOS setup menu.

In the BIOS setup menu you can confirm that both memory modules are detected and recognized correctly.
As you see, in my case the BIOS sees 2GB RAM  running at 533MHz.