In this guide I'll be taking apart a Sony Vaio VPCZ1.
I'll show how to remove the keyboard/palmrest assembly in order to access the internal components.
You can use this guide for accessing the hard drive (which is mounted inside the case), memory modules, optical DVD drive and wireless card. Also, when you remove the palmrest assembly you can access the cooling fan and clean it up.
In this particular case I'm taking apart Sony Vaio VPCZ1290X model.
STEP 1.
Make sure the commuter is turned off.
Unlock and remove the battery.
STEP 2.
Remove two screws securing the memory cover.
Lift up and remove the memory cover.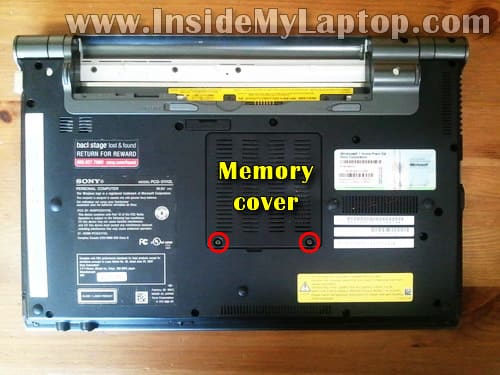 STEP 3.
Both memory modules can be accessed on the bottom.
Sony Vaio VPCZ1 laptop uses DDR3 memory.
This laptop can handle up to 8GB (2x4GB) DDR3-12800 SODIMM memory modules.
STEP 4.
Remove all marked screws from the bottom.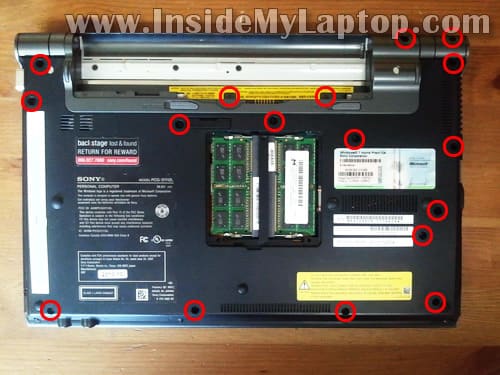 STEP 5.
Make sure the display is moved back as much as possible.
Lift up the upper side of the keyboard/palmrest assembly.
STEP 6.
Continue removing the keyboard/palmrest assembly. Be careful, there is a cable connecting the assembly to the motherboard.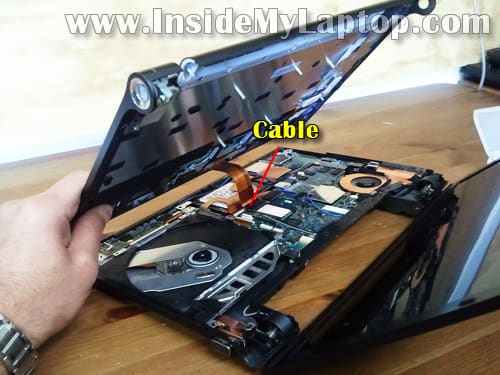 STEP 7.
Unplug the palmrest assembly cable from the motherboard.
When the palmrest assembly removed you can get access to the following internal components:
– Cooling fan.
– Wireless card.
– DVD drive.
– Hard drive.
In my Sony Vaio VPCZ1290X I had two SSDs (Solid State Drives) sandwiched together and configured as RAID 0.
You can support my work!
If you appreciate my work and find this information useful, please support this site. Thank you!