In this guide I explain how to remove and replace damaged screen on a HP Pavilion dv2000 notebook.
This guide should work for all models in Pavilion dv2000 line.
Before you start, please turn off the computer, unplug the power adapter and remove the battery.
STEP 1.
The display bezel is secured to the cover by six screws hidden under six screw seals. I circled these screw seals.
Remove all seals with a sharp object and after that remove all screws found under the seals.
STEP 2.
Start separating the bezel from the display cover on one of the top corners.
Continue separating the bezel.
Remove the bezel.
STEP 3.
The inverter board works as a power supply for the backlight lamp hidden inside the LCD panel.
It's mounted on the bottom of the display cover.
Disconnect the backlight cable from the right side of the inverter.
STEP 4.
Remove four screws securing the display hinges to the cover.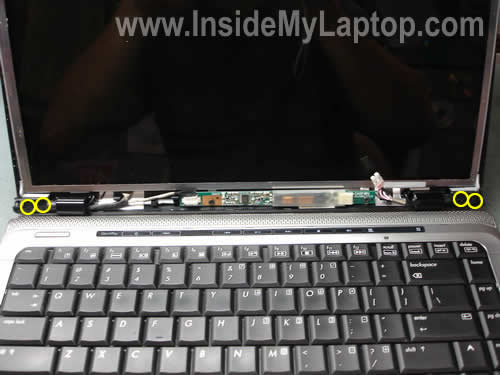 STEP 5.
Carefully separate the LCD panel from the cover and place it the front side down on the keyboard.
Now you can access the LCD cable (video cable) connector.
STEP 6.
Unplug the cable from the screen.
STEP 7.
Remove the LCD panel. As you can see, it still has two mounting brackets attached to the left and right sides.
STEP 8.
In order to remove the mounting bracket, simply remove three screws.
Transfer the bracket to the new screen.
Now you can install the new screen back into the laptop and put everything back together following all disassembly steps in the reverse order.
When you search for a new replacement screen use the model number printed on the back side of the original one.
You can support my work!
If you appreciate my work and find this information useful, please support this site. Thank you!