In this guide I explain how to remove and replace the LCD screen or inverter board in a Dell Inspiron 1525 laptop.
Most likely this guide will work for many other Dell models. If it works for you, please mention the model number in comments after this post.
In order to remove the LCD and inverter we'll have to take apart the display assembly.
Before you start, make sure the computer is turned off and battery removed.
STEP 1.
There are six rubber screw covers on the display bezel.
Remove all covers with a sharp object. You can glue covers somewhere so they don't get lost.
Now remove all six screws found under those covers.
STEP 2.
Start separating the bezel from the display cover. You may use a piece of plastic as case cracker.
Insert fingers under the bezel and carefully wiggle until it separates from the cover.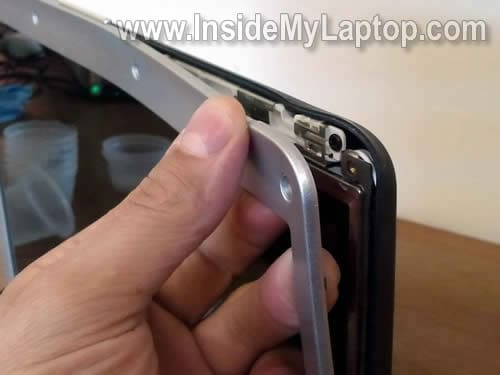 STEP 3.
Continue removing bezel on the top.
STEP 4.
On the bottom the bezel could be glued to the LCD with double sticky tape.
Carefully separate the bezel.
STEP 5.
It has been removed.
STEP 6.
Remove two screws securing hinges to the back cover.
STEP 7.
Carefully separate the LCD assembly from the display cover and place it face down on the keyboard.
STEP 8.
Now you can access the back side.
The inverter board mounted into a metal bracket.
STEP 9.
Disconnect the video cable.
STEP 10.
Disconnect another end of the video cable from the inverter.
STEP 11.
The LCD assembly has been removed.
There are two mounting brackets on both side.
STEP 12.
Remove one screw securing the inverter board to the bracket.
STEP 13.
Disconnect the backlight cable from the left side of the inverter.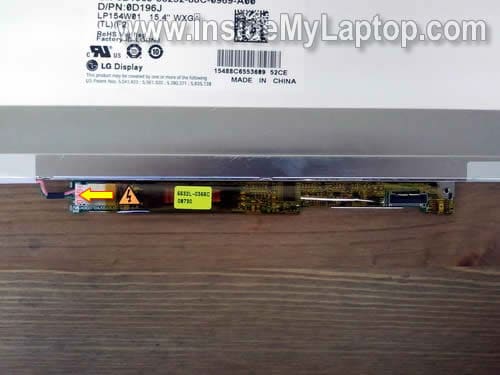 STEP 14.
Now you can remove the inverter and replace it with a new one if needed.
The best way to search for a replacement screen would be using Dell part number (0D196j in my case) or LCD model number (LP154W01 (TL)(F2) in my case).
If you are replacing just the screen, I would recommend buying exactly the same model, preferably with the inverter attached.
STEP 15.
Transfer the left and right mounting brackets to the new screen.
In order to remove the bracket, simply remove four screws on securing it.
In one of my previous posts I explained how to replace keyboard on Dell Inspiron 1525 laptop.
You can support my work!
If you appreciate my work and find this information useful, please support this site. Thank you!