Today I show how to remove and replace the keyboard in a Dell Inspiron 1545 laptop.
In my case I had some water spilled and some keys stopped working.
Probably you can use this guide some other Dell models.
STEP 1.
Turn it off, unplug the AC adapter and remove the battery.
In the battery compartment you'll find two screws securing the center control cover. Remove both screws.
STEP 2.
Insert a flat head screwdriver between the control cover and top cover assembly and carefully lift up the cover.
Continue removing the center control cover with your fingers.
STEP 3.
Remove the control cover.
STEP 4.
Remove two screws securing the keyboard.
STEP 5.
Lift up the top side of the keyboard as it shown on the picture below.
Be careful, it is attached to the motherboard with a flat ribbo cable.
STEP 6.
Remove the keyboard so you can access the ribbon cable.
Before you remove the keyboard, it's necessary to unlock the connector and release the cable.
WARNING! If you damage the connector, you'll have to replace the whole motherboard. Be careful.
STEP 7.
On the picture below the connector is shown in the locked position.
Carefully flip the brown part of the connector up, so it opens up at a 90 degree angle.
On the picture below the connector is shown in the unlocked position.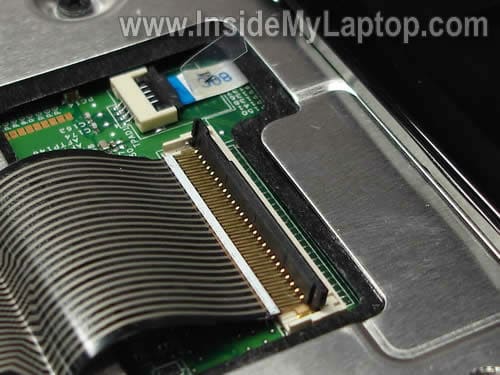 STEP 8.
Now you can pull the cable from the connector and remove the keyboard from the laptop.
Replace the failed/damaged keyboard with a new one.
You can search for a new keyboard by the Dell part number printed on the sticker. In my case the part number is 0P446J.
On the following picture you can see how to access other main components of this Dell Inspiron 1545 laptop.
1. In order to remove the CD/DVD drive, you'll have to remove one screw securing the drive (yellow circle) and pull the drive out.
2. In order to remove the hard drive, you'll have to remove two screws securing the hard drive caddy (green screws) and pull the hard drive assembly out.
3. Both memory modules (RAM modules) and wireless card can be accessed and removed after you remove the base cover.
4. The CPU (processor) is mounted under the heatsink.
In one of the next guides I explain how to replace LCD screen
Also, here's a complete disassembly guide for Dell Inspiron 1545.