In this guide I show how to remove and replace the keyboard on a Dell Latitude D620 laptop. After you remove the keyboard, you'll be able to access the memory module installed into the internal slot. Also, you'll be able to clean the cooling fan and heatsink.
First of all, turn off the computer, unplug the AC adapter and remove the battery.
STEP 1.
Lift up the right side of the power switch cover with a small flat head screwdriver.
Continue removing the switch cover with your fingers.
STEP 2.
Remove the switch cover.
STEP 3.
Under the switch you'll find three screws securing the keyboard. Remove all three screws.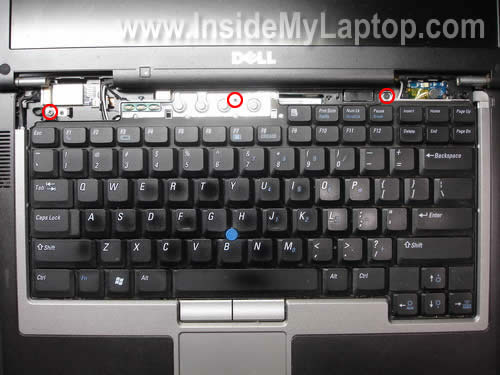 STEP 4.
Lift up the keyboard as it shown on the picture below. Before you can remove it completely, you have to disconnect the cable.
STEP 5.
The keyboard cable connector is plugged into the motherboard and the blue holder secures the cable.
Lift up the blue cable holder first.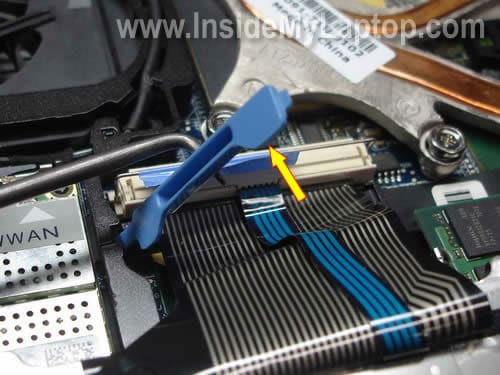 Unplug the cable connector from the motherboard.
Now you can remove the keyboard and replace it with a new one.
When the keyboard is removed you'll get access to the memory module installed into the hidden slot.
You can replace or upgrade the memory module if you wish.
Also, you'll get limited access to the cooling fan. It would be enough for cleaning the fan. You can blow off dust from the fan using canned air or air compressor.
In one of the following posts I explain how to replace the screen on a Dell Latitude D620.