In this tutorial I'll explain how to remove the LCD screen and replace the inverter board on an Acer Aspire 5100 laptop.
This tutorial will work for many other Acer models with a similar body style.
In my previous article I was taking an Acer Aspire 5100 apart.
First of all, turn off the computer, unplug AC adapter and remove the battery.
The display bezel has four screws hidden under for seals.
Two rubber seals on the top of the bezel and two plastic seals on the bottom.
You can remove all four screw seals with a sharp object as it shown on the picture below.
Glue removed seals somewhere on the bezel so they don't get lost.
Remove four screws found under seals.
Start removing the bezel with your fingers. Proceed slowly while separating it from the cover.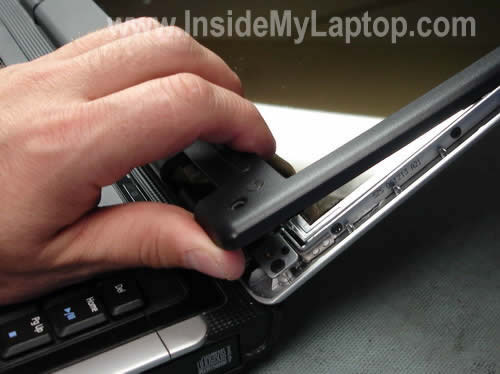 Continue removing the bezel.
The bezel has been removed.
The inverter board is mounted on the lower part of the display assembly.
Remove four screws. Two of them securing display hinges and other two securing the inverter.
Carefully separate the display cover from the screen and access the LCD cable connector.
You'll have to unplug the cable.
1. Remove the clear tape securing the connection.
2. Disconnect the cable.
Now you can access the inverter.
Carefully unplug cables from both sides of the board.
Remove the inverter and replace it with a new one if necessary.
Here's how you can remove the LCD panel.
Remove four screws securing the screen to the right hinge bracket.
Remove four more screws from the left bracket.
Now you can remove and replace the screen with a new one if necessary.