In the following guide I explain how to remove the keyboard in a Dell XPS M1210 laptop.
I am removing it in order to access the internal memory slot.
This model has two slots. One of them can be easily access through the service door on the bottom, but the second memory slot is hidden under the keyboard.
A Dell XPS M1210 can take up to 4GB RAM total. You can install up to 2GB stick into each slot.
You can use DDR2-533 PC2-4200 or DDR2-667 PC2-5300 modules.
Before you start, do not forget to turn it off and remove the battery.
STEP 1.
Remove one screw securing the service cover on the bottom. Remove the cover.
STEP 2.
Spread latches on both sides of the memory slot. After the RAM module pops up at a 30 degree angle, carefully remove from the slot by the edges.
STEP 3.
In the following few steps we'll be removing the keyboard.
Lift up the right side of the power button cover with a small screwdriver.
Continue removing the cover with your fingers.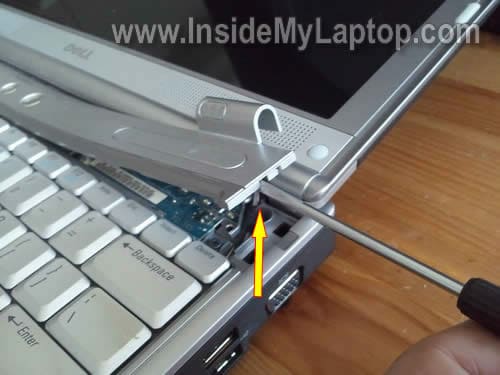 STEP 4.
Remove the power button cover.
STEP 5.
Remove three screws securing the keyboard.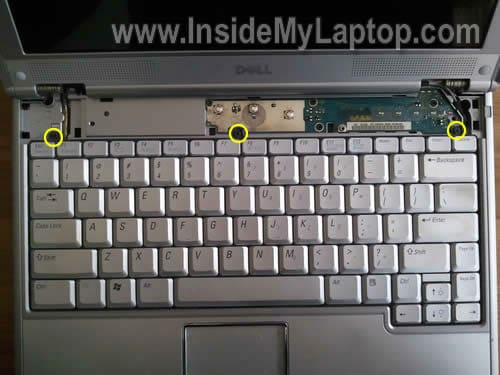 STEP 6.
Lift up the keyboard as it shown on the following picture and move it towards the display.
STEP 7.
If you want to replace the keyboard you'll have to disconnect the cable from the motherboard.
You can access the internal RAM slot without disconnecting the keyboard. Simply turn it upside down and place on the palm rest.
Under the keyboard you'll find the internal RAM module.
Also you can access the CMOS battery and get some limited access to the cooling fan.
If the fan looks dusty, blow it off with compressed air.
Cleaning the cooling fan once in a while will prevent the laptop from overheating.
STEP 8.
Spread latches on both sides of the slot and carefully pull the memory module by the edges.
By the way, you don't have to change any settings in the BIOS after RAM upgrade. New memory should be detected and configured automatically.