In this guide I explain how to remove the keyboard and clean the cooling fan in an HP Compaq 6515b laptop.
Most likely this guide will work for some other HP Compaq model. If it works for you, please mention the model number in the comments below.
Also, you can use this guide for accessing and replacing the memory module installed in the hidden slot under the keyboard.
STEP 1.
Turn off the computer and remove the battery.
Remove one screw securing the memory cover. Remove the cover.
STEP 2.
Loosen three screws securing the keyboard on the bottom of the laptop.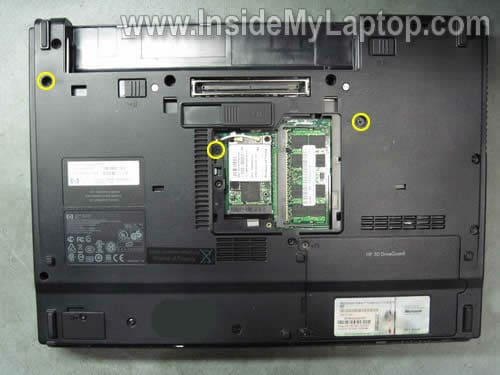 STEP 3.
There are four latches in the top row.
Unlock the latch by moving it towards the touch pad.
STEP 4.
Lift up the keyboard and place it upside down on the palm rest. It is not necessary to disconnect the cable from the motherboard.
You disconnect the keyboard cable only if you want to replace it.
STEP 5.
The cooling fan is located in the top left corner.
If the cooling fan and heat sink are dusty, you can clean them using canned air or air compressor. Blow air inside the fan until all dust is gone.
Also, under the keyboard you can access the hidden memory slot and CMOS battery.
You can support my work!
If you appreciate my work and find this information useful, please support this site. Thank you!