In this guide I show how to remove and replace damaged or failed LCD screen on a HP Pavilion g7.
As you see, in my case it's broken. It's cracked badly and the left side doesn't show any image.
Make sure the computer is turned off before you start the disassembly process.
STEP 1.
Remove the battery.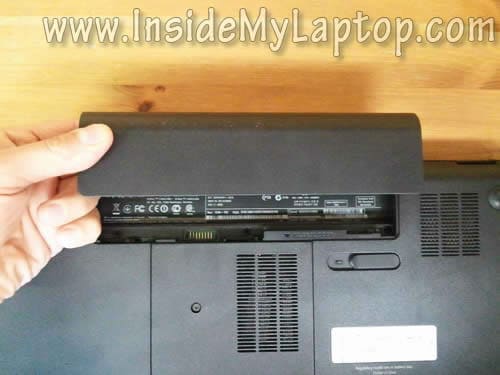 STEP 2.
You'll find two screw covers on the lower left and right corners of the display bezel.
Remove the left cover with a sharp object.
Remove the screw.
STEP 3.
Remove the right screw cover.
Remove the screw.
STEP 4.
Now start separating the bezel from the display back cover.
For separating the bezel I'm using the guitar pick. You can use any other piece of plastic.
Insert your finger between the bezel and back cover and at the same time work with the guitar pick to separate the bezel.
You'll have to wiggle the bezel to unlock hidden latches.
STEP 5.
Continue removing the bezel with your fingers.
STEP 6.
When the bezel removed on the upper side of the display panel move the lower side.
STEP 7.
Close the display. Using the guitar pick separate the bezel from the cover on the back side of the laptop.
STEP 8.
Now you can remove the bezel completely.
STEP 9.
Remove two screws from the right mounting bracket.
STEP 10.
Remove two screws from the left mounting bracket.
STEP 11.
Separate the LCD from the display back cover and place it face down on the keyboard.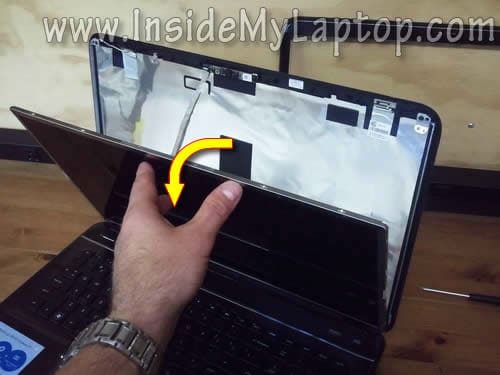 STEP 12.
Now you can access the video cable on the back.
STEP 13.
Remove clear tape securing the connection.
Unplug the video cable connector.
STEP 14.
Remove the damaged LCD screen and replace it with a new one.
Assemble everything back together following all steps in the reverse direction.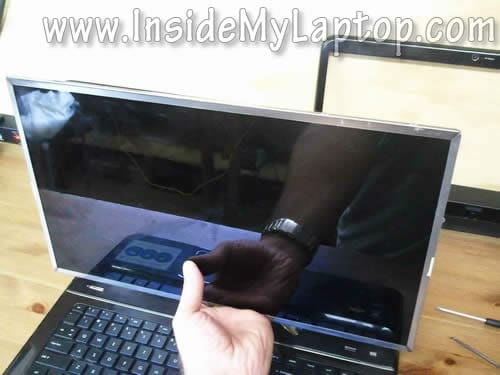 You can search for a new replacement LCD using the model number from the original part.
My HP Pavilion g7 I had the a screen with the following model number: LTN173KT02.
My next guide for HP Pavilion g7 explains how to disassemble the body.