In this guide I explain how to upgrade RAM (memory) in a Toshiba Satellite A45 laptop.
If you search for memory slots on the bottom of the laptop, you will not find any because both slots are hidden under the keyboard.
In order to access both RAM slots you'll have to remove the keyboard. Don't worry, it will take about 5 minutes even for inexperienced users.
Before you start,  turn off the computer, unplug the power adapter and remove the battery and of course, proceed at your own risk. 🙂
STEP 1.
Insert a small flat head screwdriver under the keyboard bezel and lift it up.
STEP 2.
Continue removing the bezel with your fingers until it's completely separated from the top cover.
STEP 3.
Remove three screws securing the keyboard. Also, remove the metal plate/bracket under the screw in the middle.
STEP 4.
Lift up the keyboard as it shown on the picture below and place it upside down on the palm rest.
STEP 5.
On the picture below you can see both RAM slots. The slot 1 has one memory module installed. I'm going to remove the original module and replace it with a larger one.
In order to remove the module from the slot you'll have to spread latches on both sides of the module until it pops up at a 20-30 degree angle.
The memory module popped up.
STEP 6.
Now you can grab the module by the edges and pull it from the slot.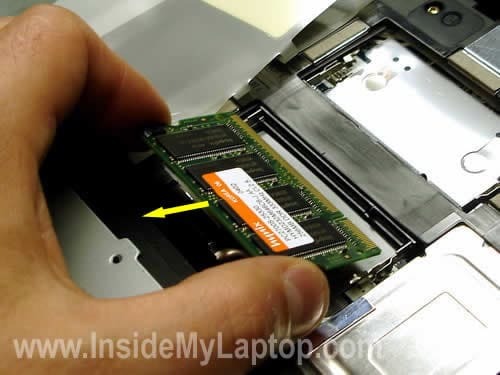 On the picture below you can see the original 256MB module that I had installed.
Toshiba Satellite A45 can be upgraded to 2GB RAM total. You can install up to 1GB module into each slot. You should use PC2700 (DDR333) SO-DIMM RAM modules.
You can use different size memory modules in different slots. For example if you have an original 256MB module in the slot 1 and install an additional 1GB module into the slot 2, the laptop will detect 1.25GB RAM total. No additional configuration needed. You simply install new memory and start the laptop, it will be detected by the BIOS automatically.
If your laptop will not start after you added more memory, make sure the module is seated correctly.