Here are excellent instructions for upgrading memory on HP Pavilion zv5000 series laptops in seven relatively easy steps. I found links to the disassembly pictures while reading comments on Ask Laptop Freak site and decided to compile them into a guide. Upgrading memory on this laptop could be tricky because one of the memory expansion slots is located under the keyboard. According to HP specifications for zv5000 you can install 2 memory modules up to 1GB each. You should use PC2700 333MHz memory modules.
STEP 1.
First of all, you can add one memory module into the expansion slot on the bottom of the laptop.

Enlarge image 1.
STEP 2.
Remove seven screws pointed with red arrows.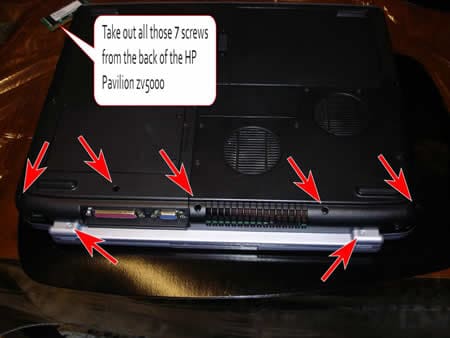 Enlarge image 2.
STEP 3.
Carefully lift up the keyboard cover. You'll have play with the cover in order to release plastic latches.


Enlarge image 3.
STEP 4.
Remove four screws securing the keyboard.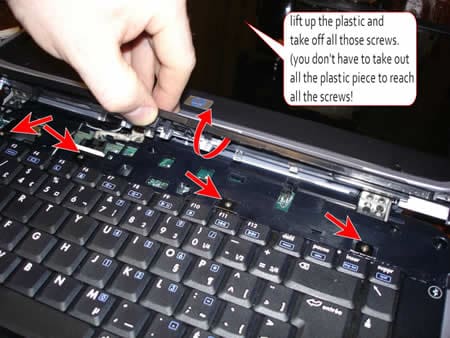 Enlarge image 4.
STEP 5.
Carefully lift up the keyboard. You don't have to disconnect the keyboard from the motherboard in order to access the memory expansion slot. Just turn the keyboard over and place it upside down on the palm rest.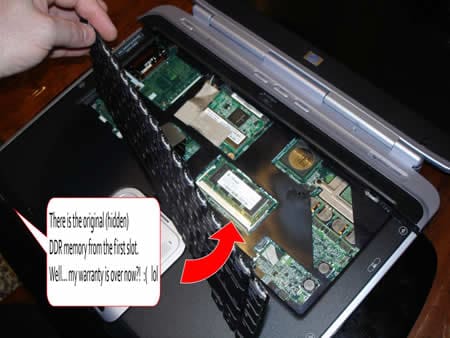 Enlarge image 5.
STEP 6.
Here's the memory slot you are looking for.


Enlarge image 6.
STEP 7.
Spread latches on both sides of the memory module and remove the old 256MB module and install a new one.
HP Pavilion zv5000 laptops will not take more then 2GB (1GB module in each slot).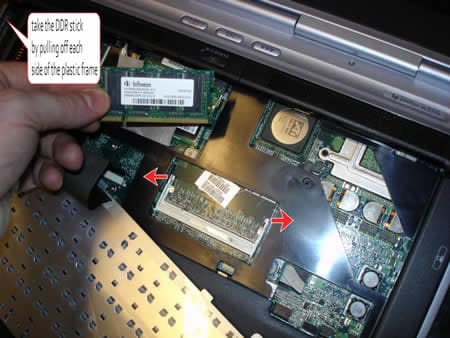 Enlarge image 7.
UPDATE: HP Pavilion zv5000 LCD removal and backlight replacement instructions
Did I help you $ave some money? Please consider making a donation. THANK YOU!