This tutorial explains how you can upgrade your Dell Inspiron E1705 a.k.a. Inspiron 9400 by replacing the graphics card and installing more memory.
Dell has done something great here, a laptop that is user-serviceable and user-upgradable…Tonight, I ventured into wild with a few components and upgrades not normally available.
Dell Inspiron E1705/9400 laptop has two user-accessible memory slots. According to Dell specifications, you can install up 2GB into this unit (up to 1GB into each slot). You should use PC2-5400 DDR-II 667MHz modules.

Even though Dell says that you cannot install more then 2GB, the author of this tutorial installed 4GB (two 2GB modules) into his laptop.
The issue with a lot of bios' out there (desktops, laptops, and even the XPS-line of previous laptops) is that they do not allow full access to all 4096 MB of ram – if you were to stick in 4GB of ram. The E1705 is one of them, and limits you to utilizing only 3.2 GB of ram available to the OS.
In addition to memory upgrade, the author was able to replace his ATI Mobility Radeon X1400 graphics card with a more powerful nVidia Quatro FX2500m 512MB graphics card. In order to install new graphics card, you'll have to modify the laptop case.
Make sure to read through comments posted after the tutorial. You'll have to install modified drivers to make your new graphics card to work correctly.
What you want to do is download a special "hacked" set. It's basically the highend drivers from nvidia "desktop only" series of cards (laptops have lower-end versions). But with a slight tweak to the INI files to allow you to install it for your 2500m Quatra mobile edition.
Here's another tutorial for upgrading the graphics card in a Dell Inspiron E1705 laptop, you'll find it here. The author explains how to replace ATI x1400 graphics card with NVIDIA 7800go. In this tutorial you'll find step-by-step laptop disassembly instructions, graphics card installation instructions and a few benchmarks to show you of the difference in performance.
The top picture in the x1400 that we removed, and the bottom picture is our new baby that is going into the e1705. The 7800go, while not the top of the line for NVIDIA mobile graphics anymore should be more than enough for the gamer that is taking his laptop on the road and will do some gaming. The installation of this card is no different than the x1400 as they use the same heat sink and assembly, so just pop it in, and then put everything back together.
ATI x1400 graphics card
NVIDIA 7800go graphics card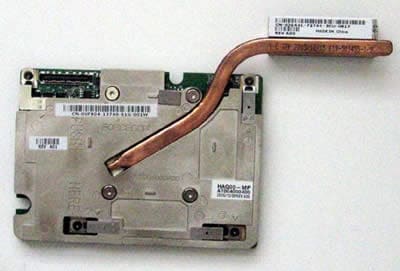 UPDATE: I just found another guide for Dell Inspiron E1705 (9400) users. This guide explains how to disassemble the laptop and replace the video card.
Originally, my notebook, a Dell Inspiron E1705 (9400), was equipped with a NVIDIA GeForce Go 7800 video card. In order to improve its graphical performance, I decided to replace it by a NVIDIA Geforce Go 7900 GTX.
Also, check out my new instructions for replacing a damaged keyboard in a Dell Inspiron 9400 laptop.
Did I help you $ave some money? Please consider making a donation. THANK YOU!